Jun 8, 2020
Island Artistry
There's an art to coping with stressful times, and art itself can challenge, inspire, and compel us. Especially in Hawai'i, where we are surrounded by beauty in nature, art can capture the things and places we love, and help them reside in our homes as well as our hearts.
Around the island, artists in every media create works almost as dramatic and diverse as the island itself—from walk-into-the-scene realism to breathtaking volcano photography, ocean-inspired glass, exciting abstracts, fantasy, vintage graphics, native wood carvings, and so much more. A trip to various galleries and boutiques is an invitation to experience our island home through artists' eyes.
A member of our Hapuna Realty 'ohana, REALTOR® Broker Barb Jelks is also an "extreme" plein air- painter. "Most people think of plein air as just painting outside," she says. "I love the experience of being in the environment, and the physical process of oil painting. It's hard work. It takes complete focus and devotion."
"Plein air painting is kind of like surfing," she continues. "You drive around a lot to find the perfect spot for that day. You deal with wind, rain, sun, available light… You can't paint a morning painting in the afternoon. You have to be focused on light and shadow, and you have about two hours to complete your painting."
Barb grew up in Seattle, and spent a lot of time outdoors with friends, hiking, sailing, and enjoying nature. "I loved to paint, mostly watercolors," she says. Also an avid traveler, Barb painted wherever her journey took her, be it Mexico, Europe, or Katmandu.
She and her husband came to the island on their honeymoon, and returned to stay in 1986. "We came because we could have horses, go fishing and diving, do the things we loved," Barb says. Soon she was immersed in the culture and community. "I learned lomilomi massage and herbal medicine, I paddled with the Kawaihae Canoe Club, and started doing Hawaiian quilts."
She explored and painted the countless beautiful places Hawai'i Island offers. "You have to find the 'power spot,' you have to be inspired," she says, "I like to go up Mana Road, and up to Waiki'i Ranch; I love to paint Keokea and Pololū."
When the coronavirus disrupted life, Barb had to cancel a painting trip to Idaho. "Travel is something I love to do," she says, "And because that wasn't available to me, I am focused on painting what I call the coronavirus series. The water is clean, you see more fish, the air quality better right now… Earth is really healing."
Barb's paintings are available in Waimea General Store, which is OPEN Monday-Saturday, 9 a.m.-5:30 p.m. and Sunday 10 a.m.-4:30 p.m. This local favorite shop, since 1970, has (pretty much literally) everything—packed floor-to-ceiling into its meandering space in the Parker Square shopping center. Look for local made soaps and body products, salts, teas, candies, upscale kitchen items, books, and of course, art.
Across the lawn in Parker Square, is the Gallery of Great Things in Waimea. This jewel box art boutique is tucked in a corner of historic Parker Square shopping center (which once housed nurses' quarters during WWII) where it's been since 1984. Visitors will find art and artifacts from Hawai'i and across Polynesia and Asia: Fiji, Tonga, Samoa, Thailand, New Zealand, the Cook Islands, Bali, Pacific Dreamscapes of San Diego and elsewhere. Owner-operator Maria Brick has said "the art gives us … the wonderful opportunity to teach people about the Pacific Culture and ways of historic life." The Gallery is presently OPEN 10 a.m. to 2 p.m. Monday through Saturday.
In the North Kohala town of Hawi, Tiffany DeEtte Shafto and woodworker husband Timothy have been a presence for artists since 2004. Tiffany is author of two books about contemporary art in Hawai'i, and although the physical store is closed at present, Tiffany's Art Agency remains a fun and valuable resource for art-lovers. It features a virtual gallery tour, a unique app that sizes art pieces to your home's specifications, and a large online gallery featuring the outstanding painting, sculpture, art photograph and other work that Tiffany has a knack and passion for finding and nurturing.
"Working closely with local established and emerging artists who are so passionate and focused on their mastery, has shifted how I see the world," says Tiffany. "Through their eyes and processes, my own are opened to wonders I never knew existed. It's pure joy, which ignited my passion for sharing it with you in a new and improved way." You may contact Tiffany for an in-person appointment. [email protected], 808-747-5882.
To the south, family-run Harbor Gallery in the Kawaihae Shopping Center represents some 200 Hawai'i artists, as it has since 1990. Exploring this gallery is an adventure for shoppers of any budget—with colorful art cards and gifts, select original and prints and paintings, fabulous wood furniture, exquisite Ni'ihau shells and much more. Presently OPEN 11 a.m. to 5 p.m. daily, Harbor Gallery is planning to hold its annual Summer Wood Show, starting July 4, 2020.
The Kohala Coast resorts feature art and artists throughout the hotels, restaurants and shopping centers. Aficionados have ample opportunity to visit, learn and experience countless beautiful works, often including a chance to talk story with the artists.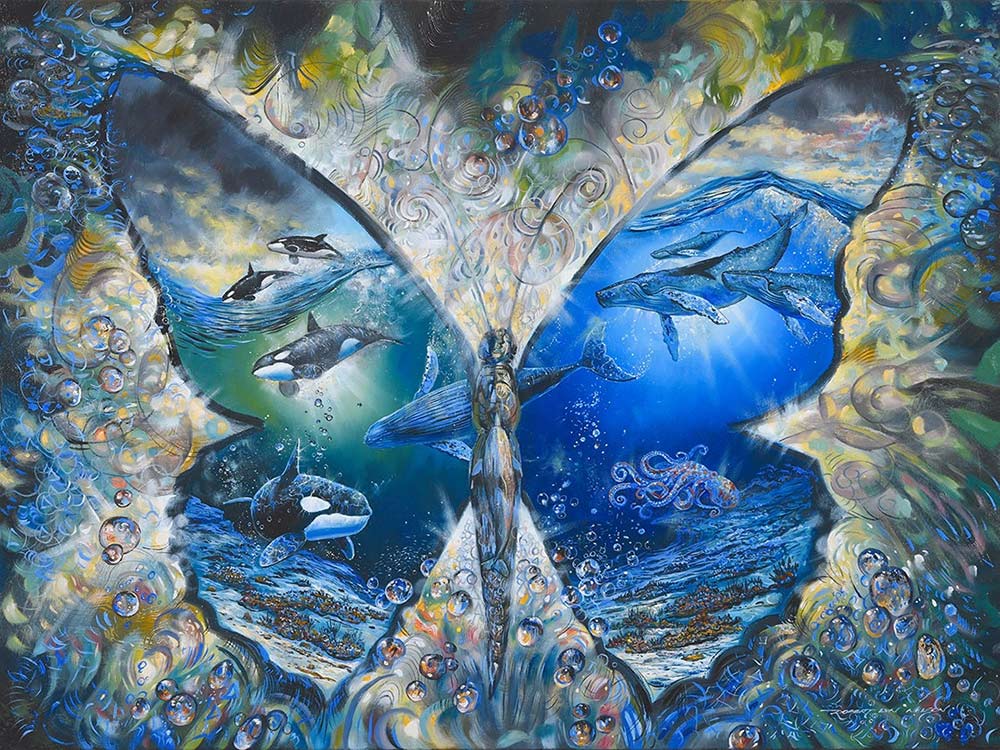 In The Shops at Mauna Lani, discover Lahaina Galleries and a gorgeous selection of colorful wall art, glasswork, sculpture, graphic art and more. These include tropical landscapes by Darrell Hill, the whimsical "restaurant art" of Guy Buffet, new fantasies by Robert Lyn Nelson and much more. Presently closed to foot traffic, they welcome callers to set up an appointment: 808-494-7726.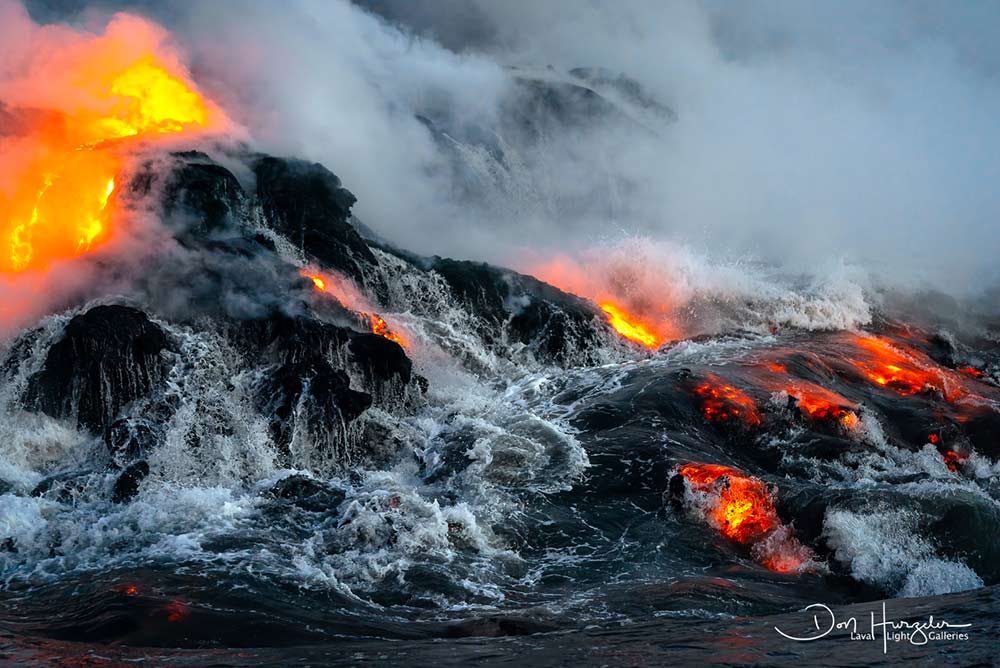 Queen's Marketplace features Lava Light Galleries, a spectacular collection of art photography, many showcasing the breathtaking power of the ocean and the volcano. Owners Linda and Don Hurzeler are themselves award-winning photographers, as is their partner CJ Kale. They are open only online right now, and, although the photos can't capture the excitement of the full-scale imagery, they are captivating.
Don and Linda, Tiffany, Maria, Barb, and all of the island's artists have something in common. They share an inspired reverence and aloha for Hawai'i. "I do it because I have such deep love for this place," says Barb. "And when I do it, I focus on the place—with respect, a connectedness with nature. It's like I have a dialog with nature."