Jan 27, 2022
Waimea Parkside
When most folks describe their dream home in Hawai'i, they include the ocean views, swaying palms, glorious Pacific sunsets. Waimea town, 20 miles and 2600' above the beach, is in many ways unexpected. Surrounded by green-on-green hills where cattle graze, Waimea is a colorful, vibrant community, that grew up around Parker Ranch headquarters. Here, paniolo (Hawaiian cowboy) culture is still respected and reflected in architectural style, public art, and stop signs that say "whoa."
Recent clients of ours made the happy choice to call Waimea their home. Here's what they had to say.
"After decades of renting homes on the South Kohala coast, we realized how fond we were of Waimea town. We had always gone to the Hawaiian Homelands Saturday farmers' market and gotten to know the vendors and many of the customers, both locals and part-time residents.
"So when it came time to buy, we focused on Waimea with its friendly, small town feel, great services and comfortable, moderate temperatures. That search took us to Waimea Parkside, a small group of custom homes opposite the park and a short walk from 'downtown.' And once we toured the one home for sale, saw the high quality build and the plantation-style details, we were sold."
But Waimea's story doesn't start with this particular happy ending. Let's take a look back and help give context to this very special place.
Waimea has been celebrated in song and story for many generations. In ancient days, it was wealthy in highly-valued resources: rich soils and ample fresh water. It was a vital area for food production, and an extensive agriculture and irrigation complex developed over time. It was stewarded and governed by powerful ali'i chiefs until King Kamehameha I conquered and united the islands under his rule.
In 1778, Hawai'i entered a time of drastic change, beginning with the arrival of English sea captain James Cook. Within a few years, new people, plants and animals were introduced, including a string of cows gifted to King Kamehameha. These cows, under the king's protection, multiplied rapidly and became a nuisance, inspiring the king to contract American sailor John Palmer Parker, with his musket, to help bring them under control. This would become the first steps toward the venerable Parker Ranch (at its peak one of the largest in the world). And when Mexican cowboys (Espanol) arrived to train islanders in roping and riding, a rich, colorful paniolo tradition was well underway.
175 years and many, many stories later, today's Waimea is a place where many things converge: cattle ranching and alternative energy production, traditional farming and high technology, rich history and a forward-looking future. Here is the location of numerous schools, picturesque churches of all denominations, world class astronomy headquarters, active culinary and art communities, modern (and growing) hospital, and much more.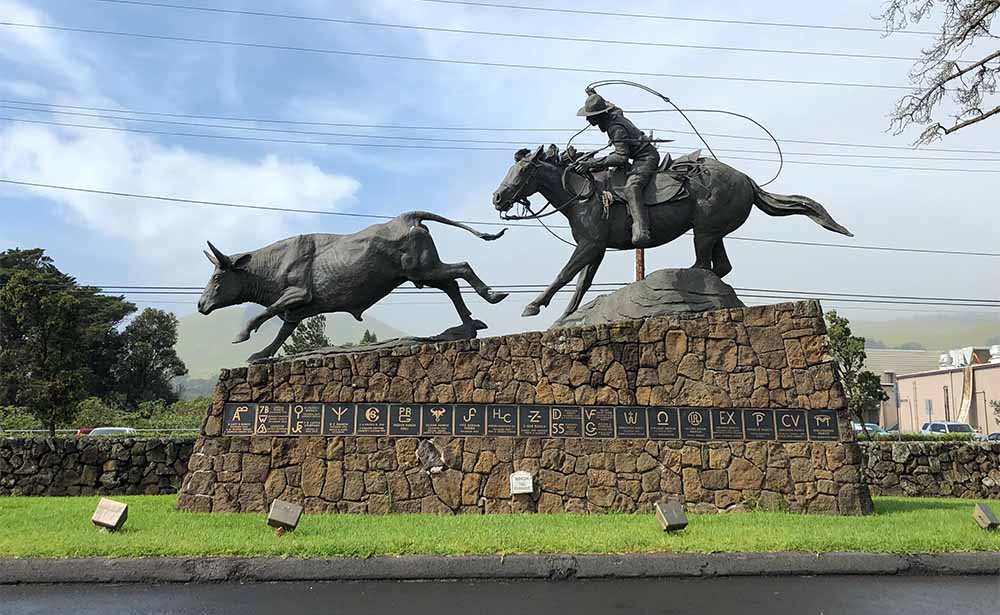 Land here is still very much in demand; new homes and house lots don't often become available. And when they do, in a highly-desirable neighborhood like that of Waimea Parkside, it's something very special. Plus, developer Phil Tinguely has realized his vision for this a community in the 'sweet spot' of Waimea town, with remarkable harmony between the structures and the landscape.
Brand new, yet quality-built in the paniolo style that melds seamlessly with its surroundings, Parkside is a collection of 40 beautiful homes in a variety of floorplans. Located just off Lindsey Road in the heart of town, Parkside is within walking distance to shopping, parks, restaurants, schools, a thriving farmers market and more.
These heritage homes on landscaped grounds include designer features like hardwood flooring, high ceilings and gourmet kitchens with granite counter tops. But what makes them truly exceptional are the unique features: air conditioning for summer, a gas fireplace and heated bathroom floors for Waimea's chilly winters, and a "smart waiter" to help carry things around the house.
Yet Parkside's most important feature is its community feeling, and that only-in-Hawai'i sense of place. Our clients put it this way:
"Waimea Parkside has felt like home from day one, starting with the neighbors who brought over wine, flowers and avocados they day we moved in… Parkside has been about much more than being able to enjoy a beautiful home. It's a great community with mostly full time residents, a mix of people from far and wide who from day one have been welcoming and generous with their time and good will.
"One of the great things about Waimea Parkside is its proximity to so many farmers' markets. These days there are at least four, with Saturday the main day plus a thriving Wednesday market at the stables just east of town. For us the only downside of this richness is that we always get excited and buy too much. Maybe we just need a larger refrigerator?"
Sounds like a larger refrigerator is in their future! Best wishes for many happy years in Waimea Parkside.