Sep 28, 2021
Road Trip: Cruising Up to North Kohala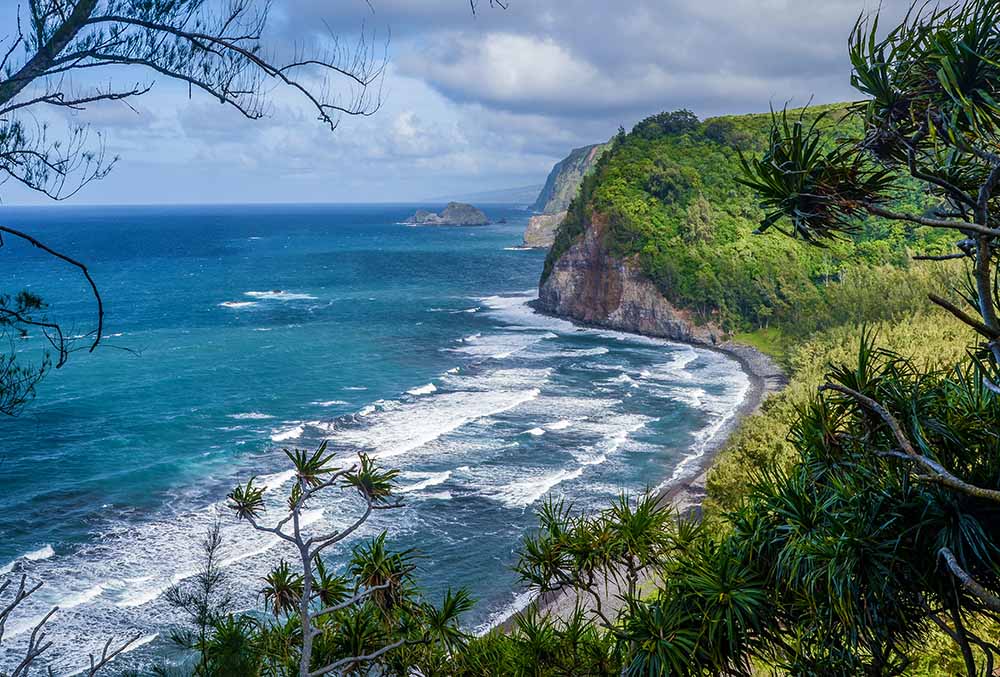 Hawai'i Island is a great place to explore, on foot, at sea or cruising by car. You don't have to go too far to find something unique, and completely different from your home base! Traveling north up the coast from the Kohala Coast resorts, you watch the terrain change from lava landscape to dry hills that grow gradually greener and more jungle-y the farther you go. At the very top of the island, just before the road ends, you'll find two former sugar cane plantation towns that might just capture your heart.
Hāwī
After a scenic cruise up Akoni Pule Highway, the first stop is Hāwī. This is a walking town. Find a place to park and enjoy cruising down a street lined with colorful shops, galleries, eateries and other businesses to explore. Note that during the pandemic, hours may be changed, and there may be entry requirements for customers.
Bamboo Restaurant and Gallery is a local favorite, and like many buildings in town, it has a history. Originally built by the Harada family in the early 1900s, it served as hotel for about 20 years, hosting sugar cane plantation workers, businessmen bringing merchandise to town, and the occasional cowboy (horses were frequently tied up outside).
The hotel became a grocery store in 1926, operated by the Takata family for 65 years, until they opened the brand new, still standing, market. When Kohala Sugar Company closed in the 1970s, residents of towns like Hāwī and neighboring Kapa'au, dependent on the plantation economy for so long, had to find new ways to make a living.
The result is a thriving community with grassroots businesses like Bamboo, catering to local residents and welcoming the many visitors who cruise through town on their way to Pololū Valley. Much of Bamboo retains the original materials, and its funky, fun décor is something of a step back in time. The Gallery features art, gifts and various treasures, made by Hawai'i artists and shared with aloha. Pre-pandemic, live Hawaiian music serenaded diners, and passers-by, most evenings. While it was closed during lockdown, owner Joan Channon donated the use of her kitchen to North Kohala Community Resource Center for its food program, serving over 1,000 meals to kupuna each week.
The kitchen (renovated, but the same room as the old hotel kitchen) is known for serving up delicious fresh fish, locally-sourced produce for salads, a great burger, sandwiches and various dishes with Hawaiian, Chinese, Vietnamese and Thai flavors. At present, due to public health restrictions, they are only open for lunch and take-out, 11:30 a.m.-2:30 p.m., closed Mondays. Masks are required and a temperature check at the door.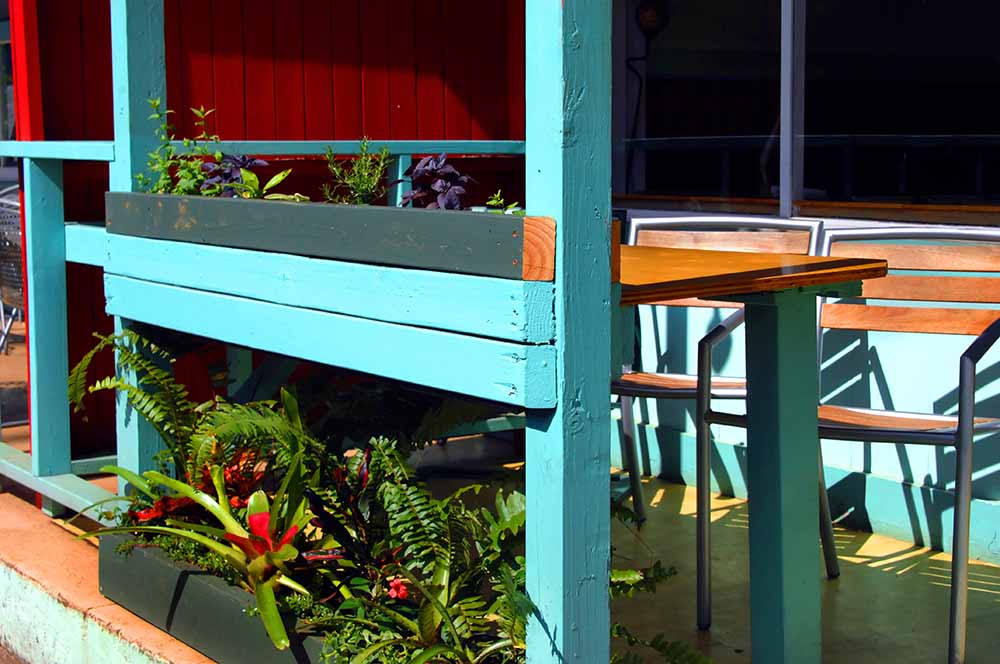 Across the street, you can probably catch the tantalizing scent wafting over from Kohala Coffee Mill. Open Monday-Friday, 7 a.m.-5 p.m. and 7 a.m.-4 p.m. on weekends, this local landmark is pretty much a must for coffees, Tropical Dreams Ice Cream, and a variety of bakery items, wraps, and snacks. Ingredients are from Hawai'i Island as much as possible, with organic, vegetarian, non-GMO and gluten free options.
Fans of Sushi Rock were sorry to see it go, but happy to help serve community when owner Peter Pomeranze re-invented his restaurant as a weekly food drive called Kohala Cares. Collaborating with 1HeartHub (Kohala Village Inn, Kohala HUB PUB, Kohala Gleans, and nonprofit Feed Hawai'i, Peter distributes 150+ bags of groceries weekly, with the help of volunteers.
The Kohala HUB PUB and Village Inn remain closed, following a fire in 2019. However, this is the site of the Hāwī Farmers Market, 8 a.m.-12:30 p.m. on Saturdays. In addition to just-picked fruits and veggies from nearby farms, they offer a nice selection of artisan items, fresh lemonade, eggs, honey, bread, and prepared food items, they feature live music by local entertainers (some of the best around).
If you can't make it to Hāwī on a Saturday, try stopping by Kohala Grown Market, open Monday-Friday, 10 a.m.-6 p.m. and Saturday-Sunday 10 a.m.-5 p.m. Inside find a mini farm market selection of fresh foods, flowers, Hawai'i-friendly seeds and more. They expanded this summer, and now offer a Deli with a whole rainbow of smoothies, homemade food to eat in or take out, State of Grace pot pies, breathtaking baked goodies (including gluten free), breads from Sandwich Isle Bread Co., and local beers from Ola Brewing Co. on tap, to drink with your lunch or fill your growler.
Kapa'au
The journey continues to Kapa'au town 2.5 miles away. Similar in feel to Hāwī, Kapa'au is another sugar cane plantation town that reinvented itself into a business community with a variety of shopping and dining venues. If you're visiting at lunch time, check out Minnie's Ohana Lim Style cafe. Have a seat on the front porch and dig in to a generous shrimp Caesar Salad, hot roast beef or turkey sandwich, catch of the day. Minnie's is open 11 a.m.-4 p.m. Monday and Tuesday, open till 6 on Wednesday and 7 on Friday, closed Thursday and weekends.
Another good choice for lunch is Gill's Lanai. Literally, a covered lanai adjacent to a classic Kohala home, Gill's is a shady, backyard-style retreat for uniquely great food. Their sign offers Fresh Fish, Tacos, Gourmet Dogs, and Vegetarian, but the specials could include dishes like Lobster or Shrimp Tacos, Pumpkin Curry Soup, or Banh Mi. Gill's is open 11 a.m.-5 p.m. Monday through Saturday.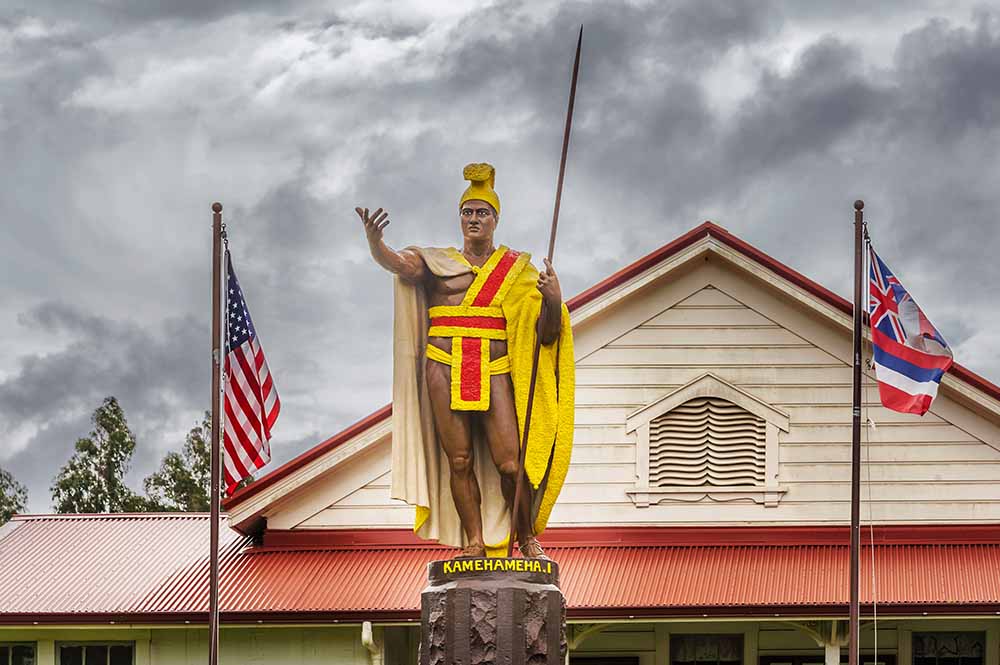 Kapaʻau's most famous resident may be the larger-than-life, 18-foot bronze statue of King Kamehameha I at the north end of town. Kamehameha is well known for unifying the islands into one kingdom. What's lesser known is that he was born in the North Kohala District, raised in hiding, and trained to be a warrior and a leader until the time came for him to take his place in history.
The statue is here because his birthplace is here, but it wasn't supposed to be. In 1878, the Territory of Hawai'i commissioned a statue as part of the 100th commemoration of Captain Cook's arrival. Created in Italy, cast in Paris, it was placed aboard a ship to Hawai'i, which sank just off the Falkland islands. A second statue was commissioned.
By chance, the captain of a ship carrying Portuguese immigrants to the islands made a stop in the Falklands. He came upon the statue in a shop, bought it, and brought it along. When both statues arrived in Honolulu, the first was given to North Kohala and the second erected at Ali'iolani Hale, now the site of Hawai'i Supreme Court. A third resides in Hilo and a fourth in the National Statuary Hall Collection in Washington, D.C.
On June 11 every year, Kapa'au honors Kamehameha Day with music, hula, pā'ū riders on parade, and a celebration fit for a king. Early in the morning, the statue is draped in 25' lei, from his shoulders and arms down to the ground. Although the festivities have been significantly scaled down the last two summers, the tradition has continued. It is an important ceremony for the community, who in some ways claim the king, and the statue, as their own.
A group of volunteers has maintained the statue since it arrived in 1883. They see that it is properly cleaned and maintained, and periodically undergoes a professional restoration.
Kings View Cafe, just across the street from the statue, is a small but tasty place to enjoy Hawaiian ice cream with a specialty coffee, or a gourmet hand tossed pizza with a cold beer. Next door, explore the treasures in Ackerman Gallery, featuring Hawai'i-inspired fine art and photography, jewelry, unique gifts, hand painted silks and much more. They're open 10:30 a.m.-7 p.m. daily, till 8 p.m. on the weekends.
Continuing on Route 270, you pass the entrance to one of North Kohala's many interesting places, Hawai'i Wildlife Center. This is the state's only hospital and rehabilitation center for native birds (and our one species of bat). Facilities include a specialized hospital, kitchen, holding pens, a covered aviary for forest birds and swimming pools for the seabirds. There's also a bird-themed retail boutique, and interactive educational exhibits in the Science and Discovery Center. Unfortunately, although the staff continues treating and releasing the birds, other facilities are closed due to the pandemic. Online shopping is still available.
At the end of the road is the beautiful overlook into Polulū Valley. Spectacular though it is, this site is one of our island's most popular spots, where parking is limited and viewing may be crowded. You can get a glimpse of almost the same view as you approach the valley, without having to navigate the U-turn at the overlook. Slow down, take it in, park for your photo op if you like, and save the trip to the end of the road for the off-season.
Enjoy your North Kohala road trip!