Apr 23, 2020
Potluck Culture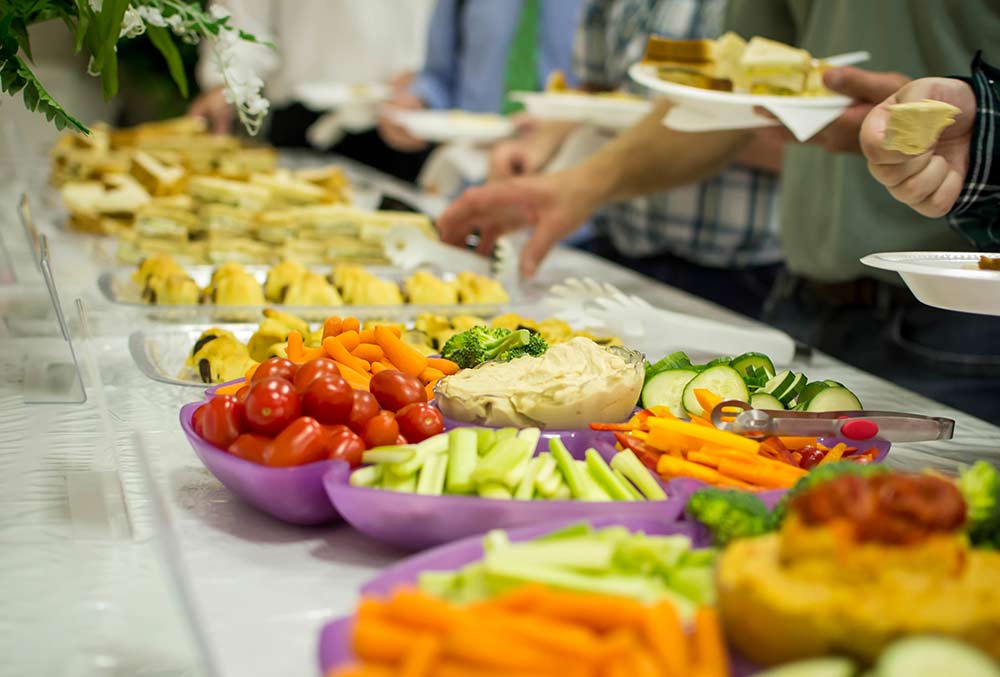 Hawai'i is a potluck society. Her foods, like her people, all come from somewhere else. We each bring a taste of this and that to a table where everybody shares, swaps stories, and takes a plate home.
The original Polynesian voyagers brought food animals and plants in their canoes. Cultivating these alongside native fish, fruits and vegetables, they sustained themselves for many generations. In 1793, beef cattle were introduced as a gift to King Kamehameha I, leading to an important ranch industry. Missionaries arrived with their own food traditions, as did sugar cane immigrant laborers from China, Korea, Japan, the Philippines, Portugal, Puerto Rico and elsewhere. During World War II, American foods of the day, like hamburgers, ice cream, and Spam, were added to the menu.
Today's potluck table holds not just dishes from all these various places, it's got salad bowls and pupu platters that mix them together for a whole to new array of taste and texture.
Poke, (pronounced poh-keh), is a potluck staple and local delicacy. In the Hawaiian language "poke" means "to slice, cut crosswise into pieces." Traditional poke-makers would cut fresh raw fish or seafood into bites, mix with sea salt, various seaweeds, and perhaps ground kukui nuts. In the present day, limitless poke variations combine fresh fish with all kinds of seasonings, plus fruits, nuts, seeds, spices, vegetables, herbs, and other ingredients from around the world.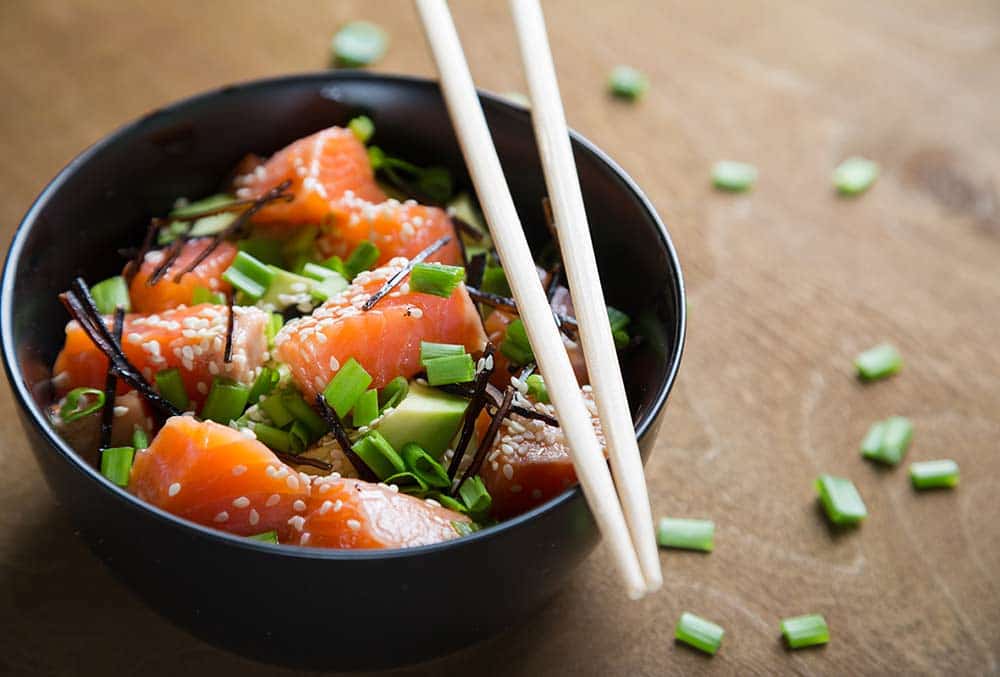 Longtime local celebrity chef Sam Choy calls poke "Hawaii's soul food." His recipes, such as the one below, combine and celebrate his own Hawaiian-Chinese heritage along with American, Japanese and other flavors into a great example of Hawaii's potluck cuisine.
Sam Choy's Spicy Tuna Poke
1 pound sashimi-grade ahi tuna, diced
¼ cup onions, minced
¾ cup mayonnaise
sesame oil, to taste
soy sauce, to taste
sambal, to taste (Asian chili pepper condiment)
½ cup crab meat
¼ cup green onions, chopped
In a mixing bowl, combine ahi, onions, green onions, and crab meat with soy sauce and sesame oil. Fold in mayonnaise and mix until combined well. Chill mixture until ready to serve.
In this one, he crosses a different ocean.
Sam Choy's Mediterranean Poke
1 pound sashimi-grade ahi tuna, cut into 1/2 inch cubes
¼ cup red bell peppers diced small
¼ cup yellow bell peppers diced small
1 carton, mixed rainbow cherry tomatoes cut in half
½ cup red onions minced
½ cup seedless kalamata olives cut in half
¼ cup fried capers
1 cup light olive oil
3 to 4 Meyer limes
4 Hawaiian chili peppers minced
Salt to taste
In a glass bowl, combine fish, salt, olive oil and lime juice. Add the Hawaiian chili peppers, then remainder of ingredients. Stir to make sure everything is coated well. Keep chilled until serving.
You can learn lots more about poke from Chef Sam's books, and by visiting his Keauhou restaurant, Sam Choy's Kai Lanai. Of course Hawai'i Island is home to numerous great poke chefs and restaurants waiting for you to discover, in addition to potlucks, picnics, and neighborhood gatherings island-wide. And, in the meantime, please try experimenting with your own favorite flavors, fresh fish—and awesome sauce!