Jul 13, 2022
New Ways to Feast on Hawaiʻi's Big Island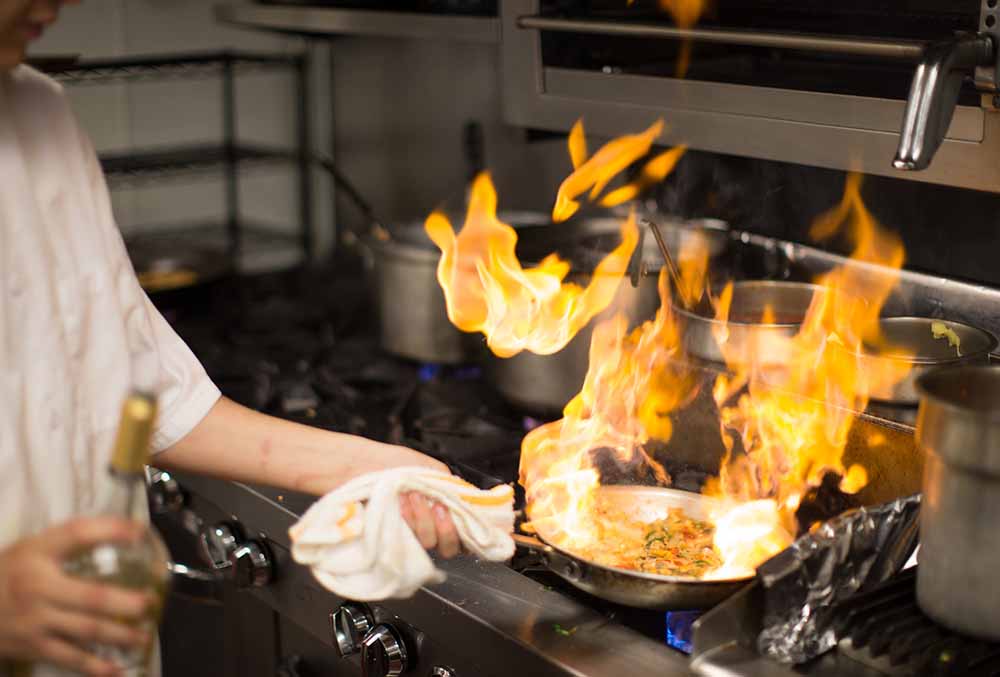 Food is a big deal on the Big Island of Hawai'i. And in spite of a couple of challenging years, island chefs and restaurateurs are still celebrating the food they love and the business that brings folks in to share their tables. New restaurants, revitalized favorites, and familiar chefs in different places make for an interesting restaurant scene that begs to be explored.
First up, Pueo's Osteria. After nine successful years, owners Christine and Chef James Babian made the leap of faith across the street to the new Waikoloa Plaza. Chef James says it's a tremendous opportunity to design and create the venue from the ground up. And, with a stellar reputation for great food and fine service, they'll now have a beautiful restaurant to match—with the added benefit of spectacular, unobstructed Pacific sunset views.
The new Pueo's will serve essentially their original menu, always spotlighting local foods, and an extensive wine list that features Italians. They'll have more seating, including an outdoor terrace, and plenty of parking. Planned opening is mid-July, and you can keep in touch through Pueo's Osteria on Facebook.
Waikoloa Plaza has numerous eateries on its tenant list, although Pueo's looks to be the only one opening any time soon. In the future, potential new food options are Balsimo's Pizza, Domino's, Coco Cantina, Keosiam, Kingu Yakiniku, Kohala Coffee, Popeye's, Pudgee Panda, Rocko's Country Kitchen, Sushi HI Rolls and Bowls, L&L Hawaiian Barbecue, Sweet Indulgence, and Fireart Cuisine.
Meanwhile, some of these good folks appear at the weekly Waikoloa Night Market on Saturdays, 4-8 p.m. in the Plaza's parking lot.
Treat Yourself!
Down on the Kohala Coast, a stroll through Kings' Shops rewards with the rich whiff of 100% Kona coming from Island Vintage Coffee. Since 1996, they've been processing coffee beans in the traditional method, and roasting them daily for the freshest brews.
Their neighbors at Gypsea Gelato are also relative newcomers to Kings' Shops, serving up delicious frozen treats, featuring local fresh pineapple, mint, lemongrass, ginger and other good things. Rotating specialty flavors include such interesting concoctions as Pele's Kiss (chocolate, cinnamon, Hawaiian chili pepper), and Ras El Hanout (Moroccan spices). In addition, they offer various coffees and espressos, and specialty baked goods including cannoli, hard to find here on the island.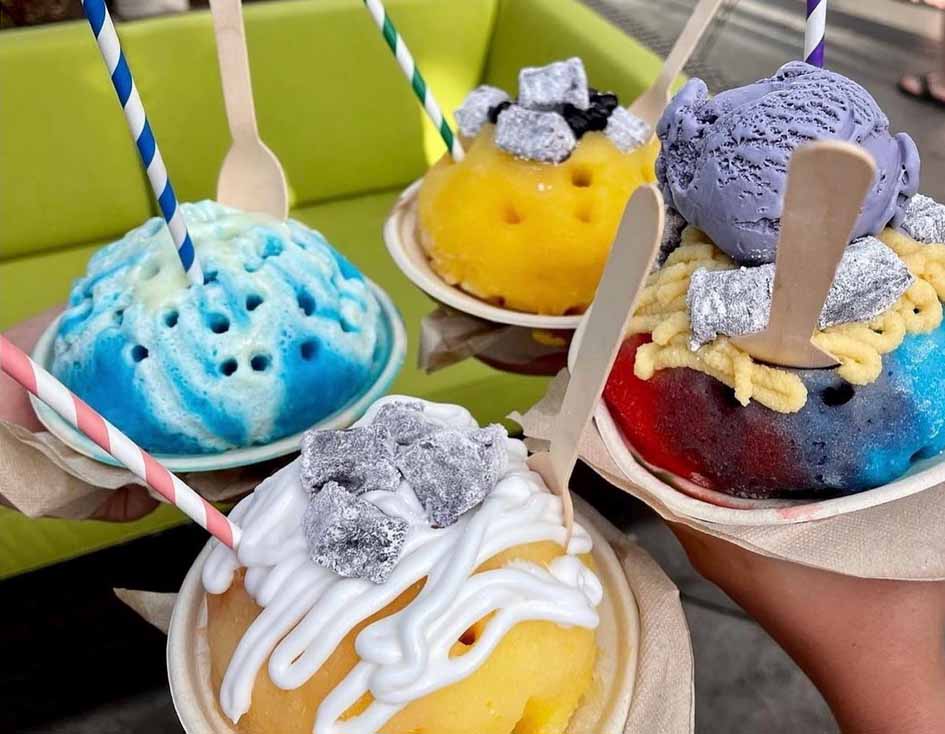 And if you haven't tried the layers of cold, sweet, over-the-top flavors of the Original Big Island Shave Ice Company, you might want to add it to the list. This is a family-run business since 1957, when grandmother Lorraine Berdon Kaono started a mobile grocery store in Waimea. Her shave ice was so popular, she renamed it Lorraine's Snack Mobile. After her retirement, son Reggie Ignacio took over the business, and opened OBISIC's very first brick-and-mortar store in 2021. (Tip: Lines can be long, but it's definitely worth the wait.)
At the Waikoloa Beach Resort
Down on the sunny Kohala Coast, Lava Lava Beach Club is presently closed for renovation. They plan to reopen in October, with an expanded outdoor area and the same good food and drinks, and friendly, toes-in-the-sand service.
For a limited time, Hawaii Calls Restaurant in Waikoloa Beach Marriott Resort and Spa is hosting a very special Chef's Series of unique dinner experiences. Using almost 100% island ingredients, the resort's Culinary Team will prepare a four-course menu, paired with select wines or craft cocktails, and served in an elegant private venue. June's menu featured Keahole shucked oysters, Waimea blend greens, and veggie salad, Kona Kampachi with rainbow carrots, coconut curry and Hamakua mushroom risotto, and a Rincon Farms strawberry panacotta—with cocktails created by Kuleana Rum Works. Hawai'i Calls promises a new dining adventure every month, featuring local farmers, ranchers, fishermen and distilleries.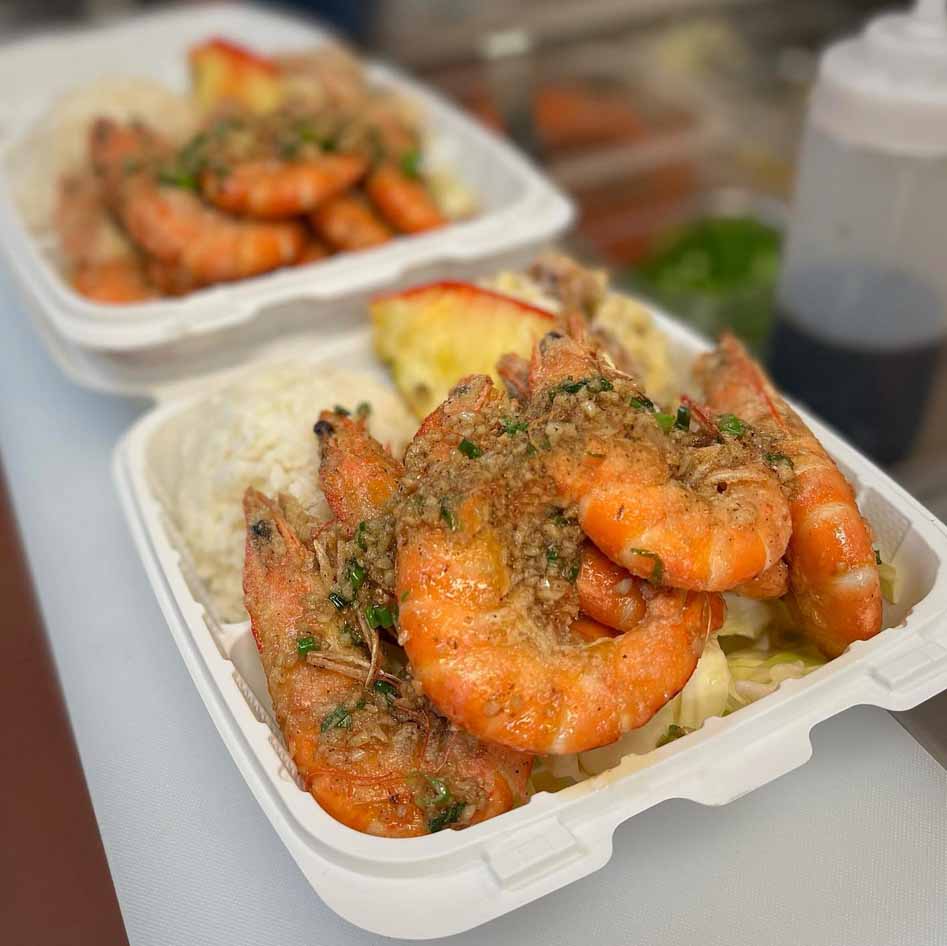 In March 2022, Queens' MarketPlace announced a couple of new eateries in their 'Ono Food Court. Shrimp steals the show at Waikoloa Shrimp Co., where shrimp comes in different flavors: coconut, lemon-pepper, spicy, dynamite, and their signature garlic shrimp. Island Greens' owner-operator Aileen Umayas, is Hawai'i Island born and raised. She works with Hawai'i farmers and distributors to select the freshest 'uala (Hawaiian sweet potato) 'ulu (breadfruit), and kalo (taro), Kamuela tomatoes, and more, for salads, wraps, bowls and build-your-own.
Coming Soon to The Shops at Mauna Lani!
Under the Bodhi Tree will return to The Shops at Mauna Lani later this year. The popular vegetarian, vegan and raw cafe has earned a loyal following over the years, for great food, and community spirit. Many of Chef Stephen Rouelle's innovative and delicious dishes can be found in his cookbook, "Under the Bodhi Tree." Chef Stephen is a regular at the new Mauna Lani Artisan Market, Sundays—along with other local food booths, artisan vendors and live music, 10 a.m.-2 p.m.
Coming quite possibly as soon as this summer, Island Hopper Tap Room, moves into The Shops at Mauna Lani, with a large selection of Polynesian draft beers, and a tasty pub grub menu. From their website, "We strive to offer a welcoming neighborhood atmosphere, whether it be for a casual lunch, a family get-together, or a front-row seat for sports fans." Also eagerly anticipated in The Shops is Torsap Thai Kitchen, the first Hawai'i location for this award-winning restaurant franchise created by Lalita Souksamlane.
Brand new on the Kohala Coast, as of the 4th of July, Cipriano's Kawaihae Kitchen. Located at the harbor on Kawaihae Road, below Seafood Bar, Cipriano's is a family run Italian-Peruvian restaurant open daily from 8 a.m. through lunch, or until pau (that is, when they sell out.)
Cipriano's features a beautiful selection of fresh baked breakfast pastries, like bacon & egg, ham & cheese, or delicious chocolate croissants, and a variety of coffee drinks. For lunch, imagine Peruvian sandwiches like Pan con Chicharron, various fuggaza (Argentinian pizza), ceviches and more. They also craft their own pastas, including large, handmade ravioli stuffed with goat cheese, caramelized onion, fig and spinach. No liquor license yet, but they are optimistic about serving wine and cocktails soon.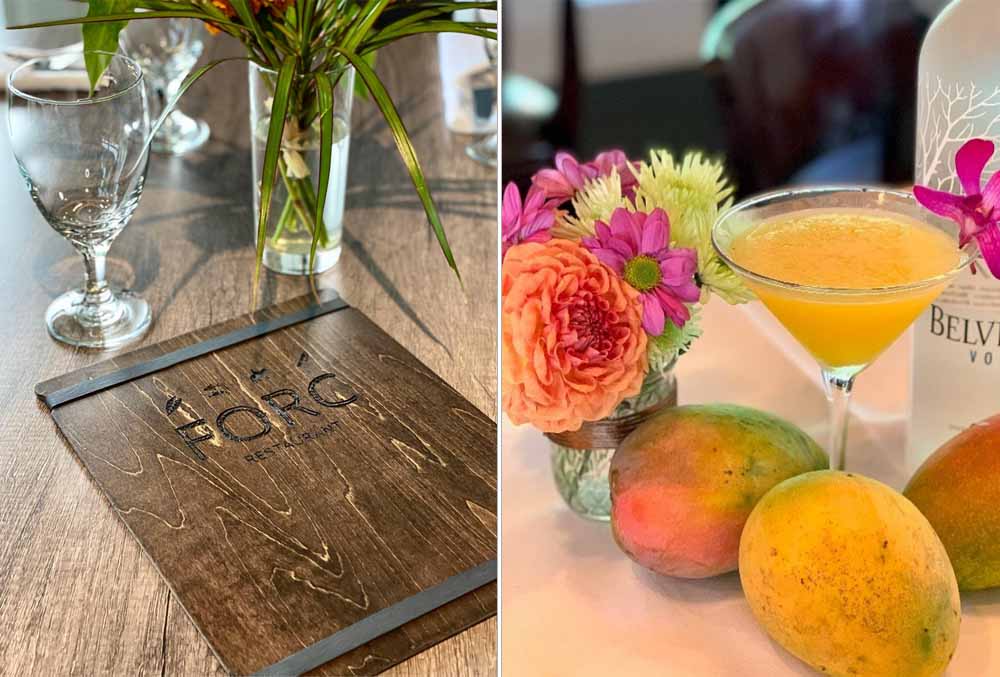 Finally, up mauka in the paniolo town of Waimea, FORC is the latest venue for Chef Allen Hess, who also runs Mai Grille at the Waikoloa Beach Resort Golf Clubhouse. Chef Allen has fine-tuned his personal art of presenting local foods, and FORC (Farmer, Ocean, Rancher, Cook) offers deliciously creative seasonal menus, 3-5 p.m. From their website, "Summer. Embracing the time of growth we add fresh, bright dishes. These flavors blossom with Summer seasonal cocktails and our Sommelier selected wine list. Share in the tastes of our Summer dinner menu with experiences for two." FORC is open Thursday through Monday, 3-9 p.m. Reservations required.
We'd be remiss if we didn't add a note about service. At the present time, Hawai'i Island restaurants—like restaurants everywhere—are struggling to hire enough employees. We encourage diners to plan ahead, make reservations (and keep them), be a bit patient if the wait is a little longer than expected.
That said, with focus on the food and the fun of a new dining experience, Bon Appetit!