Apr 5, 2022
Merrie Monarch Makes a Comeback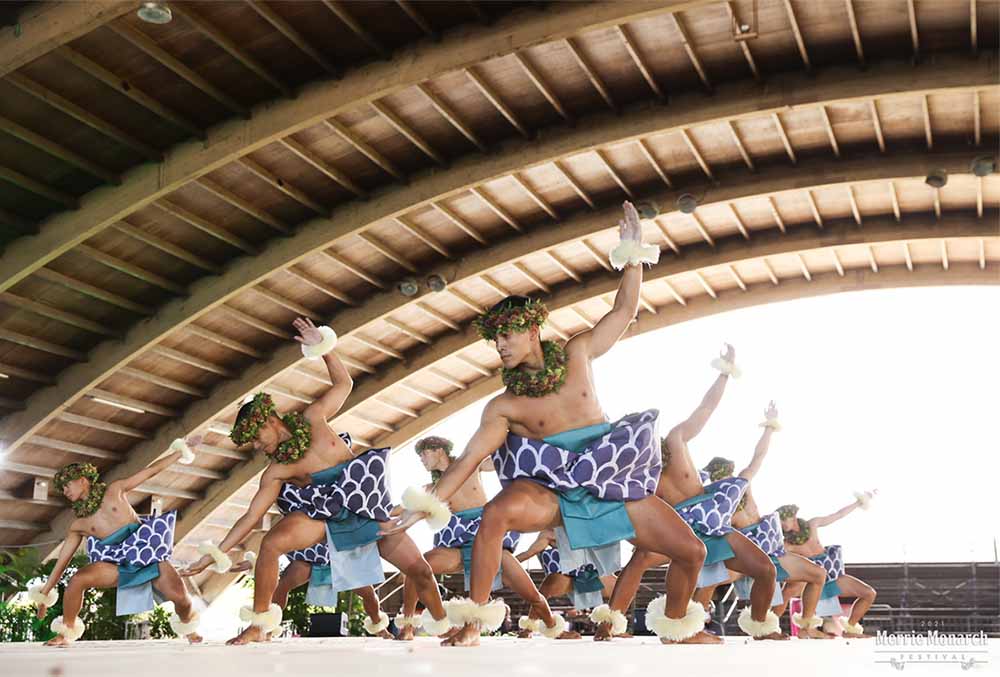 It's been called the "Olympics of Hula," a three-night competition that brings some of Hawaii's top hālau (troupes) to Hilo during the week after Easter Sunday. Tickets sell out months in advance; musicians and dancers plan their calendars around the event; local florists bring in extra hands and piles of flowers, miles of maile vine for the favored green lei of important occasions.
After one year of absence and one year of broadcast-only competition in an empty Edith Kanaka'ole Stadium, the 59th Merrie Monarch Festival will return, at about 50% live audience capacity, April 20-23, 2022.
The Merrie Monarch
The Festival is named for King David Kalākaua, "the Merrie Monarch," who reigned the Kingdom of Hawai'i from 1874 to 1891. He is credited with helping revive and preserve the culture of hula, which had been suppressed during the missionary era. A patron of the arts, and a composer himself, Kalākaua celebrated his 50th birthday in 1886 with a grand, two-week-long Silver Jubilee filled with pageantry that included dances and concerts, canoe races, a parade, lū'au for 1,500 people, and other exciting events.
Fast-forward to 1964. Hilo town had experienced a devastating tsunami; the sugar cane industry was rapidly failing; and spirits were low. To help boost morale and economy, the Executive Officer of Hawaii Island, Helene Hale, had the bold idea to recreate, at least in part, Kalākaua's grand festivities. With the assistance of staff member George Na'ope and others, Hale planned the first Merrie Monarch Festival, a lavish cultural celebration, with a Holokū Ball, a coronation ceremony, barbershop quartet contest, and a King Kalākaua beard look-alike contest.
Hula footsteps
After four years, however, the festival was struggling to keep its feet. "Aunty" Dottie Thompson, a Hilo resident, heard with alarm that Merrie Monarch might be canceled. She called Hale, and volunteered to be Executive Director. She and Uncle George traveled to O'ahu and talked with respected kumu hula Pauline Kekahuna, Louise Kaleiki, Iolani Luahine, Lokalia Montgomery, Puanani Alama and others. The consensus: not just a festival, a competition was what the hula community wanted.
In 1971, Aunty Dottie, Uncle George and their team invited nine hālau, all female, to compete for the title in hula kahiko (ancient) and hula 'auana (modern). In 1976, they added kāne (men's) hālau to the competition, and that pushed the Merrie Monarch to the next level. They moved to a larger venue; peripheral cultural events were planned; tickets and hotel rooms sold out rapidly, and Hilo had an exciting new sense of purpose.
In 1980, a third night of competition was added with the Miss Aloha Hula contest, and in 1981, Merrie Monarch was broadcast on television for the first time. Sadly, Uncle George and Aunty Dottie passed away within months of each other in 2009-10. Aunty Dottie's daughter, Luana Kawelu, took on the kuleana to continue, not just the festival, but the legacy of her mother's teachings, and the heritage of hula that bridges generations.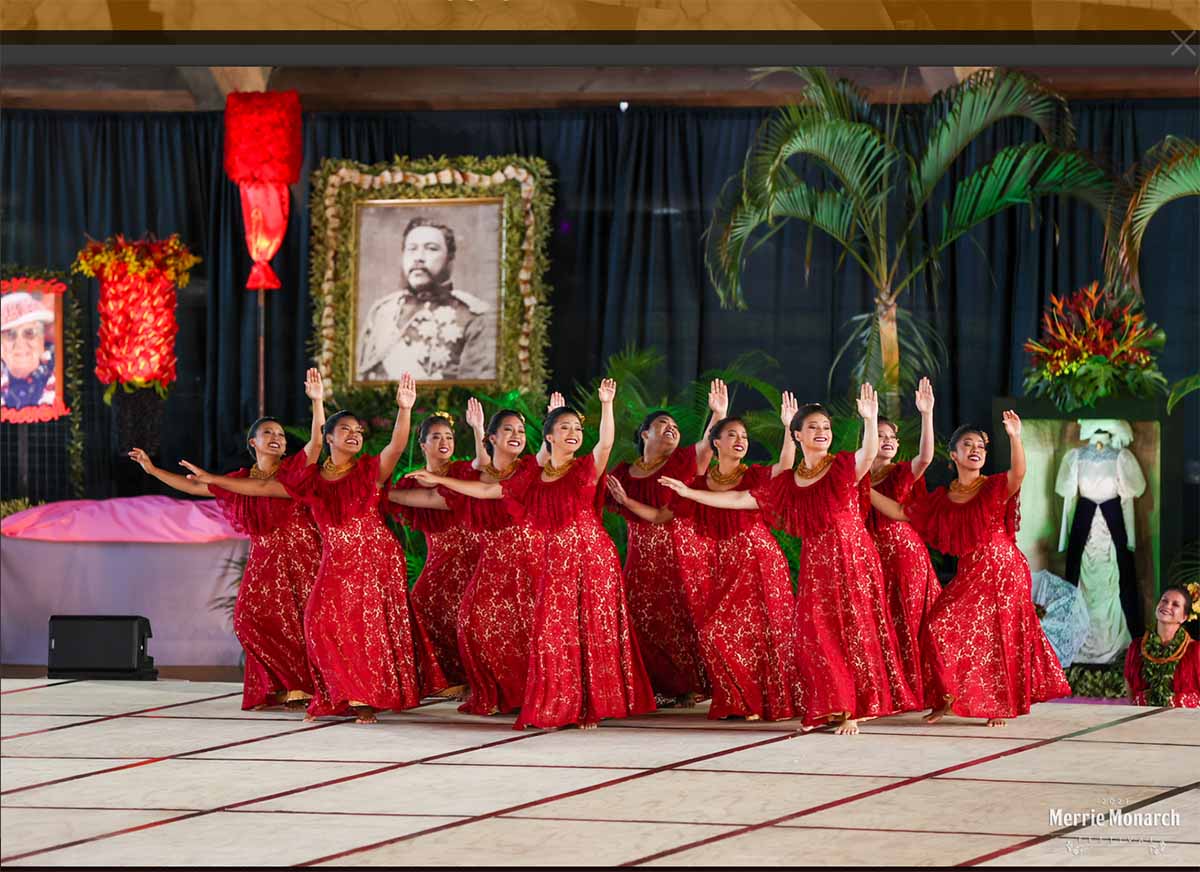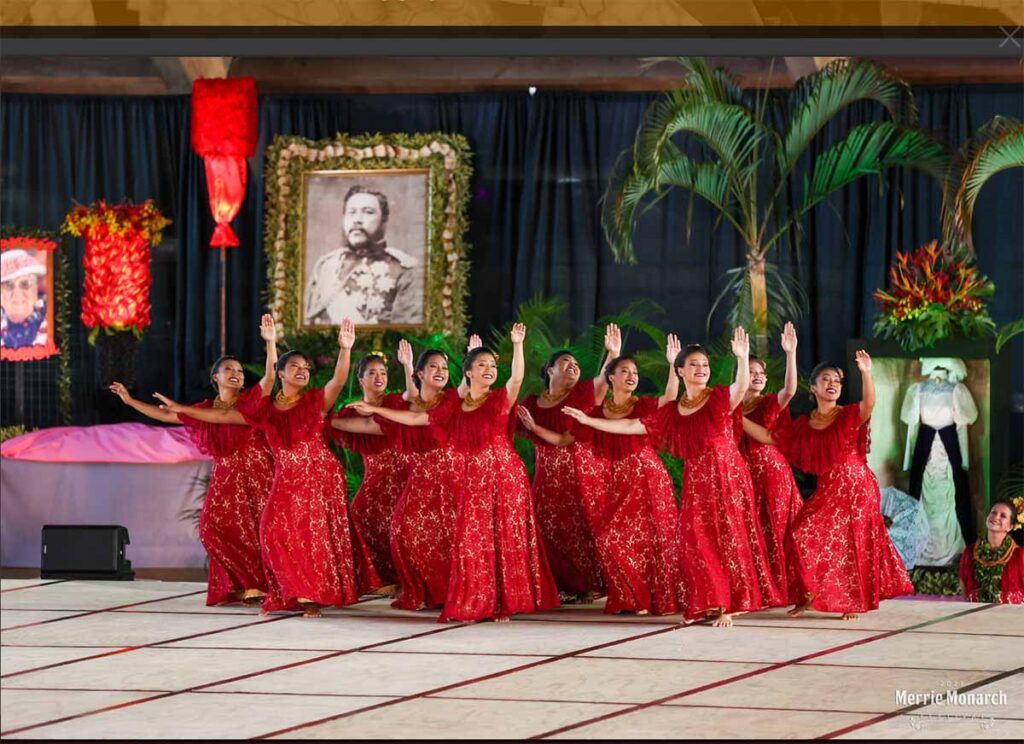 After the pause
Pre-pandemic, the Edith Kanaka'ole Stadium would be sold out, all 4,200 seats full of excited hula fans. millions more would watch on television and live-stream around the world. Thanks to COVID, Merrie Monarch was canceled in 2020, and only televised in 2021, with no live audience.
For 2022, Merrie Monarch Festival President Luana Kawelu and her staff decided not to sell tickets, but to distribute about 2,000, to the hālau for their dancers, kumu, family, and support teams. This was great news for the hula community, eager to celebrate their favorite event of the year.
They also elected to bring back Hō'ike Night, a non-competitive exhibition of Hawaiian and Polynesian Hula. They offered a limited number of Hō'ike tickets to the public at five dollars each, which were snapped up almost immediately.
This year's Hō ike Night feature's Hālau O Kekuhi, under the direction of kumu hula and Merrie Monarch judge Nalani Kanaka'ole Zane, daughter of Edith Kanaka'ole, for whom the stadium is named. She and her sister carry the knowledge and legacy of the hālau, passed to them by matrilineal succession.
Also featured is a Tahitian dance performance by Heiva Nui Hawaii, and a special performance by the "Lexington Ladies" of New York City's Lexington Hotel fame. For over 30 years, from the 30s to the 60s, the hotel's fabulous Hawaiian Room welcomed top stars of Hawaiian music, including bandleader Andy Iona, Ray Kinney and his orchestra, Clara "Hilo Hattie" Inter, Alfred Apaka, Mahi Beamer, Emma Veary and more. Today's Lexington Ladies carry on a stellar, and glamorous, tradition of hula 'auana.
Other segments of the Festival are returning as well, such as the Royal Parade on Saturday, and various craft fairs throughout the weekend. (See schedule below). And these are no run-of-the-mill craft shows; top designers and in-demand artists work all year long to bring their new products to the hula-loving public.
There are many ways to experience Merrie Monarch 2022, even in its abbreviated version. So whether you take a road trip to Hilo Town for some shopping, or stay home in front of the TV or computer screen, ENJOY!
To watch
Live on KFVE, Channel 6 on Spectrum, Hawaiian Tel TV and Direct TV. Channel 8 on Dish TV.
Live stream: https://www.hawaiinewsnow.com/merriemonarch/
2022 Merrie Monarch Festival Schedule of Events
Wednesday, April 20
Merrie Monarch Hawaiian Arts and Crafts Fair, Afook-Chinen Civic Auditorium, 9 a.m.-5 p.m.
6-10 p.m. Hō'ike Night
Thursday, April 21
Merrie Monarch Hawaiian Arts and Crafts Fair, Afook-Chinen Civic Auditorium, 9 a.m.-5 p.m.
6-10:30 p.m. Miss Aloha Hula soloists
Friday, April 22
Merrie Monarch Hawaiian Arts and Crafts Fair, Afook-Chinen Civic Auditorium, 9 a.m.-5 p.m.
6-10:30 p.m. Hula Kahiko (ancient) competition
Saturday, April 23
Merrie Monarch Hawaiian Arts and Crafts Fair, Afook-Chinen Civic Auditorium, 9 a.m.-4 p.m.
10:30 a.m. 59th Merrie Monarch Festival Royal Parade
6-10:30 p.m. Hula Auana (modern) competition and awards