Sep 28, 2022
Ironman is Back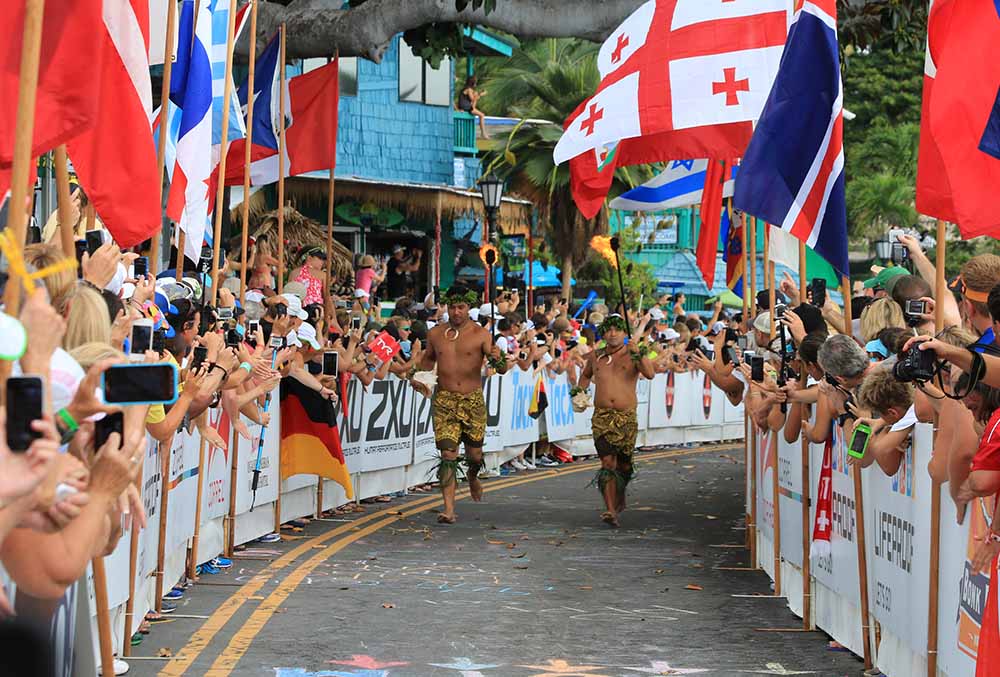 After a three-year pandemic pause, the VinFast Ironman World Championship triathlon comes back to Kona October 6 & 8, 2022, with a new sponsor, a new two-day format, and the renewed team spirit that keeps everything rolling—and running, and swimming.
The Ironman started out on O'ahu, merging three endurance events into one: the Waikiki Roughwater Swim, Around-Oahu Bike Race and Honolulu Marathon. In 1981, it moved to Hawai'i Island where less traffic and more open space made it easier to handle the 2.4-mile ocean swim, 112-mile bike race to Hawi and back, and 26-mile running marathon.
This year's Ironman will be two races: one for the men, and one for women and some men's age groups. The decision to divide it up was based on the ever-increasing number of triathletes. Ironman Kona 2022 is projected to bring in some 5,000 athletes and up to 20,000 family, fans, and support teams.
The Ironman events—starting September 28 and ending the day after the second race on October 9—will be staffed with some 8,000 volunteers. Over 150 stations, from information tables and race timers to in-the-water safety monitors on paddleboards and kayaks, bicycle mechanics, setup, cleanup, and more. This is up from a normal year, when about 5,000 volunteers would be needed, so everyone with a little time to spare is invited to join the 'ohana and experience a unique level of camaraderie.
It's a huge event, one that brings in over $30 million statewide. And, as a mahalo to the island, the Ironman Foundation gives back, donating funds to select nonprofits. In 2019, they gave $130,000 to the Daniel Sayre Foundation, Peoples Advocates for Trails Hawai'i (PATH), and Halau Ka'eaikahelelani, a Hawaiian culture school.
During COVID, the foundation pledged $1 million to help feed the island, through its Kahiau Together Initiative. Working with community partners, they provided 135,000 meals, plus ready-to-eat meals, grocery bags, and financial help to nonprofit food programs.
In addition, Ironman has adopted the Live Aloha and Tread Lightly initiative, partnered with Queen Lili'uokalani Trust, to encourage athletes, VIPs and incoming media to learn about and respect the island.
"Part of Tread Lightly is to help the people that are coming to the island understand this is our home," said Race Director Diana Bertsch. "We're very, very blessed to live in this beautiful place with all these beautiful things. We want you to enjoy it, but we ask that you take care of it. We ask that you treat our home just as you would expect somebody to treat your home."
Please be aware of road closures and plan ahead for traffic delays, watch for triathletes—especially bikers—along the roads, and remember to drive with aloha. We hope you enjoy "Ironman Season," as a volunteer, a participant or a spectator from the comfort of your very own dream home on Hawai'i Island.