Oct 22, 2021
Hawai'i Island Golf Excels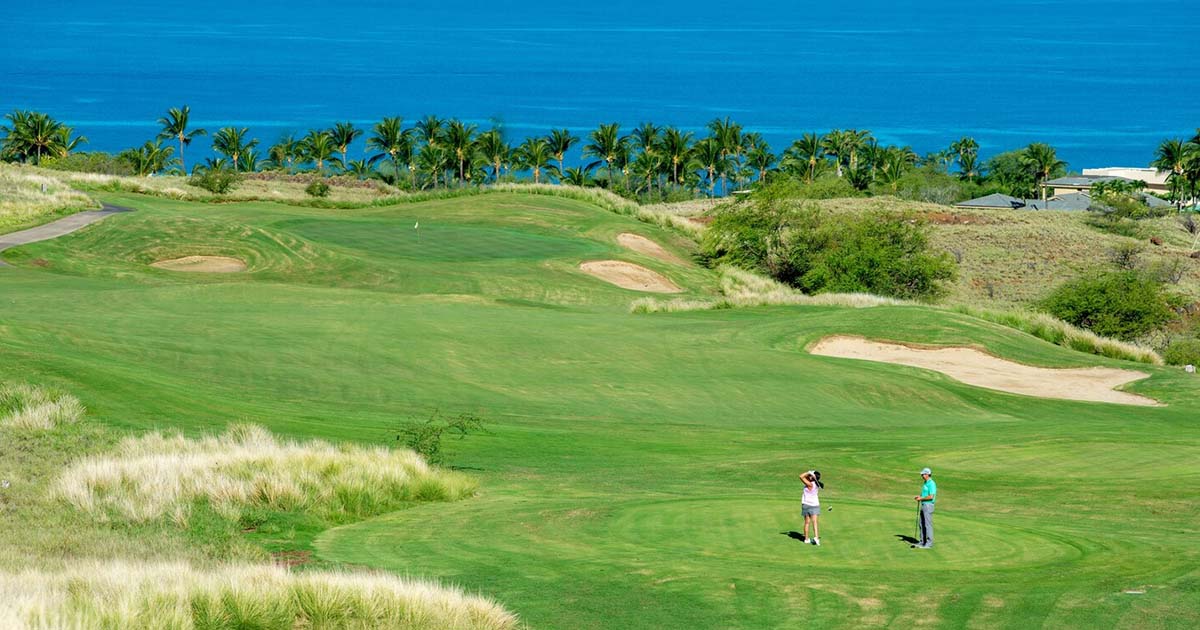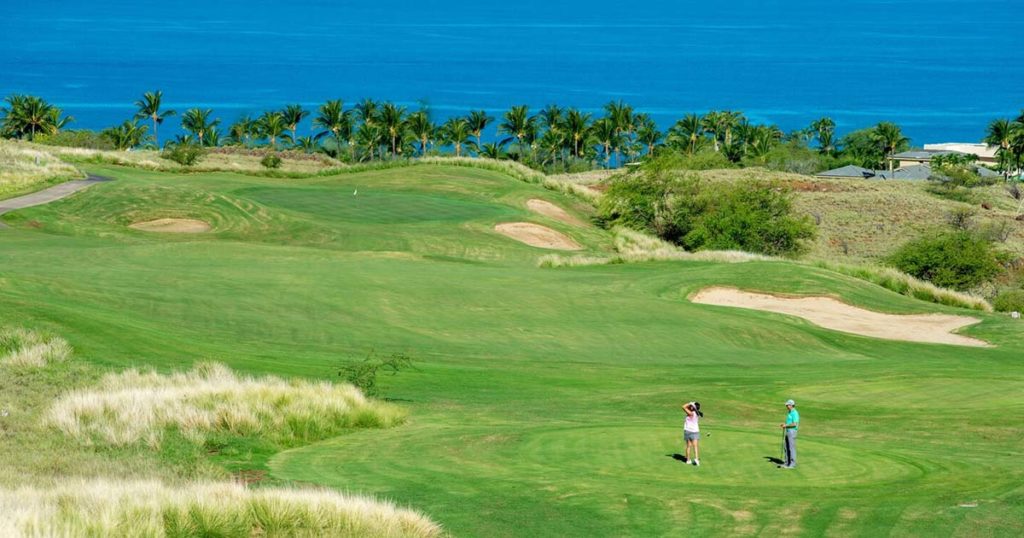 There are 75 golf courses in Hawai'i, 17 of them on the Island of Hawai'i, and 11 of those are along the ever sunny Kohala Coast, within about 20 miles of each other. Three are private, leaving the dedicated golfer only 90 holes to play, surrounded by some of the most spectacular ocean views on the planet.
Mauna Kea, Mauna Lani, and Waikoloa, are all open for non-guest play (and occasional kama'āina specials), but the first, and arguably the most beautiful golf course on the Kohala Coast is at the Mauna Kea Beach Hotel.
Then
Designed by the legendary golf course architect Robert Trent Jones, Mauna Kea Golf Course was an impossible mission made into a masterpiece. Owner-developer Laurance S. Rockefeller brought Jones on board in 1960, when the resort construction site was not much more than lava rock, kiawe trees, and once beautiful beach at Kauna'oa. There wasn't even an access road, just a dusty jeep trail, and the project had no electric power and no fresh water.
As the story goes, Jones and Rockefeller hiked up to a rocky point overlooking a crashing ocean inlet. The view was incredible, but—to many nonbelievers, including Rockefeller at the time—so was the golf course. "Mr. Rockefeller," Jones said, "If you allow me to build a golf course here, this will be the most beautiful hole in the world."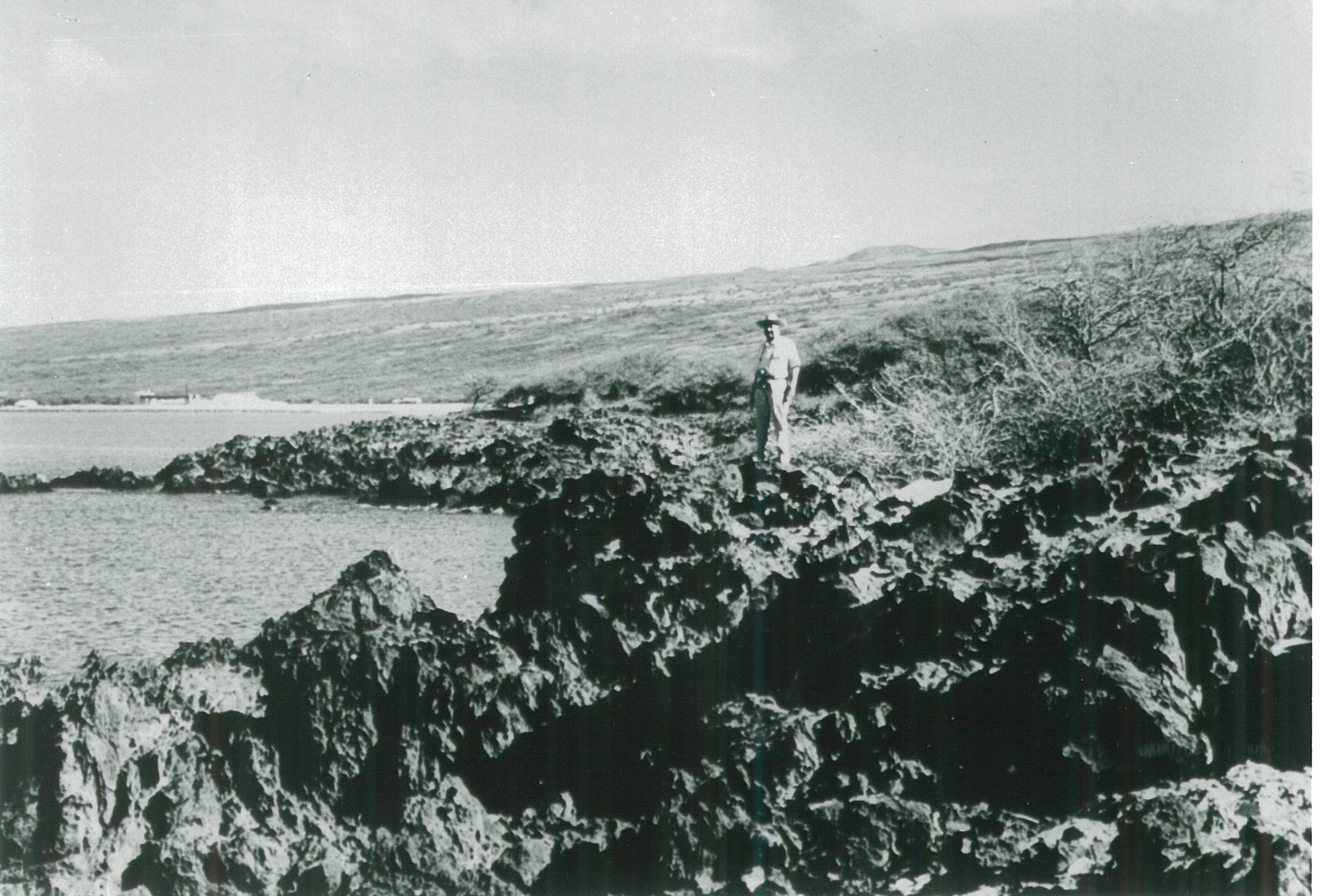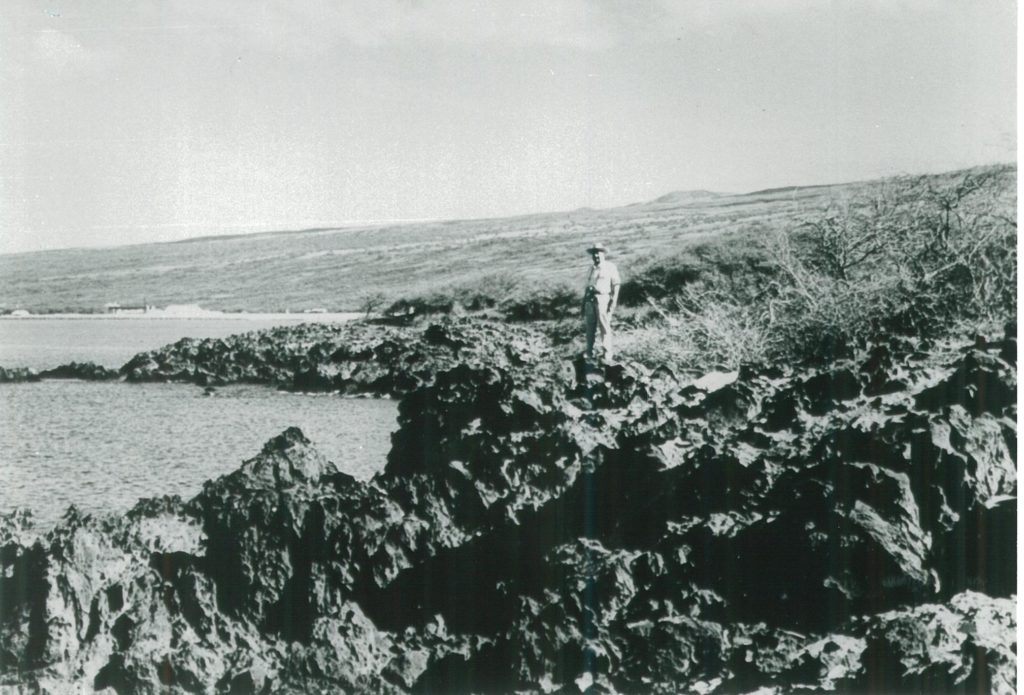 Rockefeller has said that he really didn't think it could be done, but as the two discussed it, back in the office, Jones noticed two lava rocks on Rockefeller's desk. Rockefeller said he took one and smashed it with a hammer, watching the lava crumble into fine cinder. With that as a soil base, and enough water, he knew he could do it.
That point on the coast became renowned Hole #3, one of the most challenging, and most-photographed over-the-ocean holes in golf.
In 1964, golf's "Big 3," Arnold Palmer, Gary Player and Jack Niklaus, came to Maui to play for the Canada Cup. Niklaus won the individual round, and the team of Niklaus-Palmer won the team round. After the tournament, the Big 3 came to Hawai'i Island to christen Mauna Kea Golf Course on December 8, 1964. At Hole #3, with NBC-TV cameras rolling, only Palmer reached the green.
Now
Mauna Kea Golf Course has consistently ranked among the elite golf courses in the world, welcoming generations of golfers from juniors to top professionals. The legend continues today, following a multi-million dollar restoration in 2007, designed by Robert Trent Jones' son Rees Jones. Without changing the character of the course, Jones added strategic bunkers, replanted with TifEagle Bermuda grass, and extended the total yardage to 7,370. Not to worry, five sets of tees allow for a wide range of golfing skills and exciting challenges for years to come.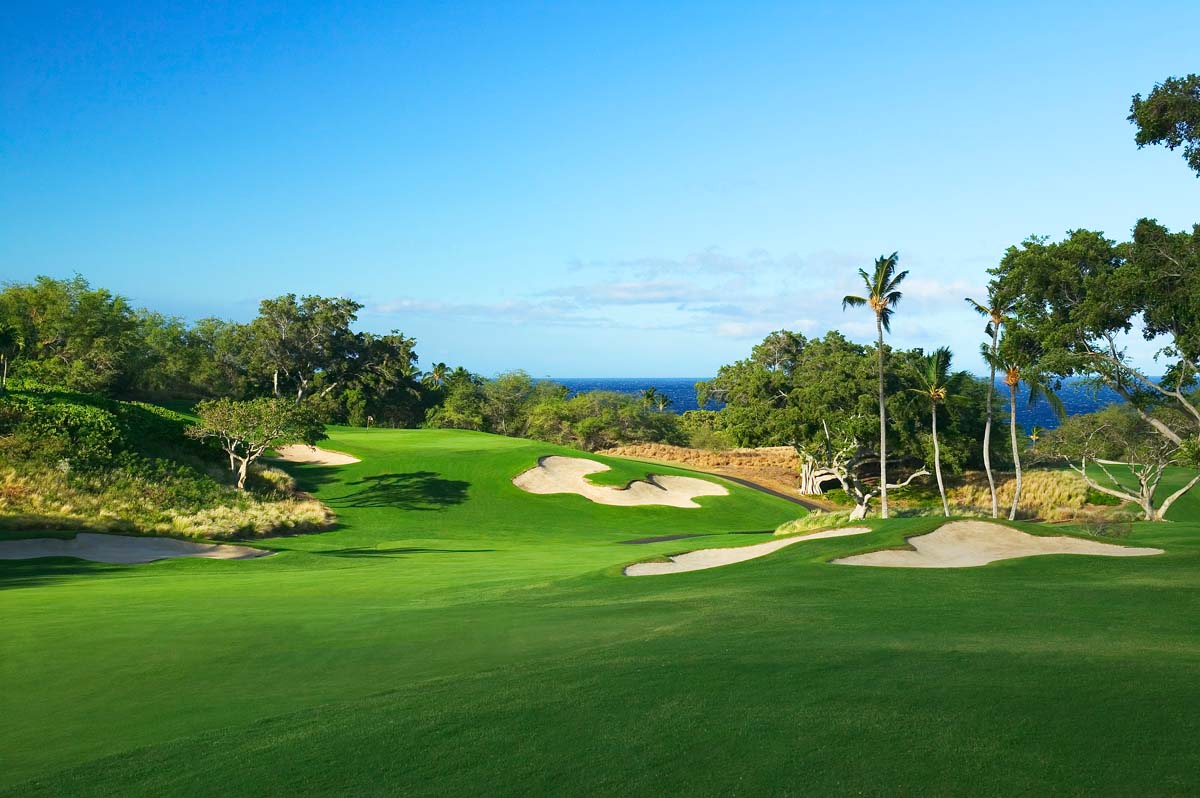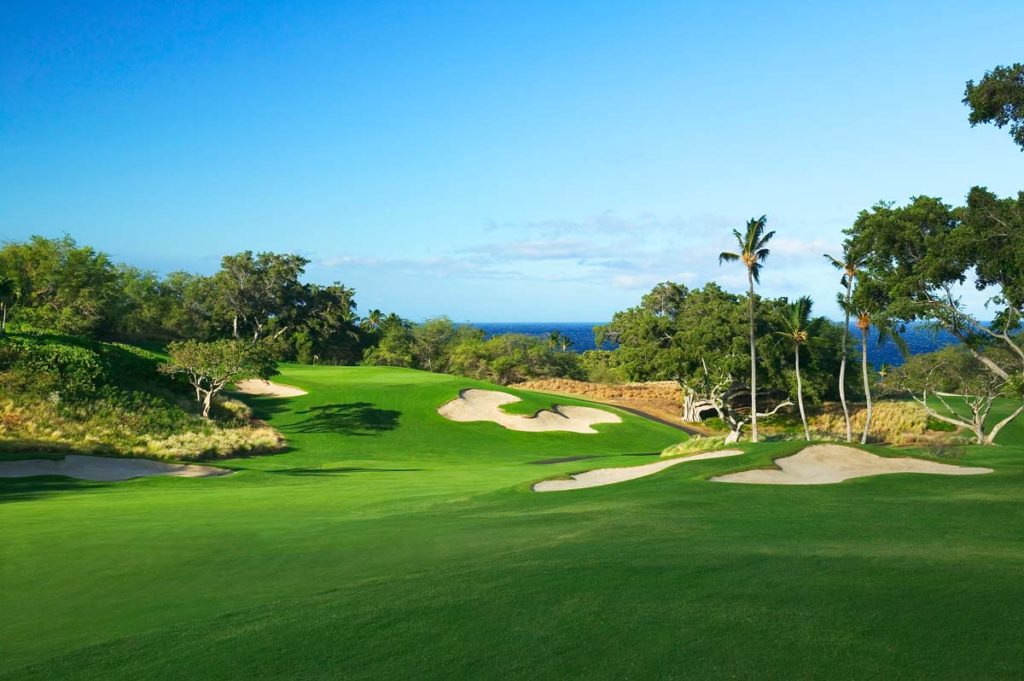 In 1992, the Hapuna Golf Course opened for play, expanding and enhancing the resort as a primo golf destination. Design team Arnold Palmer and Ed Seay created a Scottish links-style layout with careful attention to the environment, native plants, and wildlife. As a result, Hawaiian nēnē geese may be encountered on the cart paths (They're endangered, so please don't approach.) Stunning ocean views, especially on the back nine, dramatic elevation changes from sea level to 700', and total yardage of just under 6,900 made Hapuna uniquely playable, and a golf experience all its own.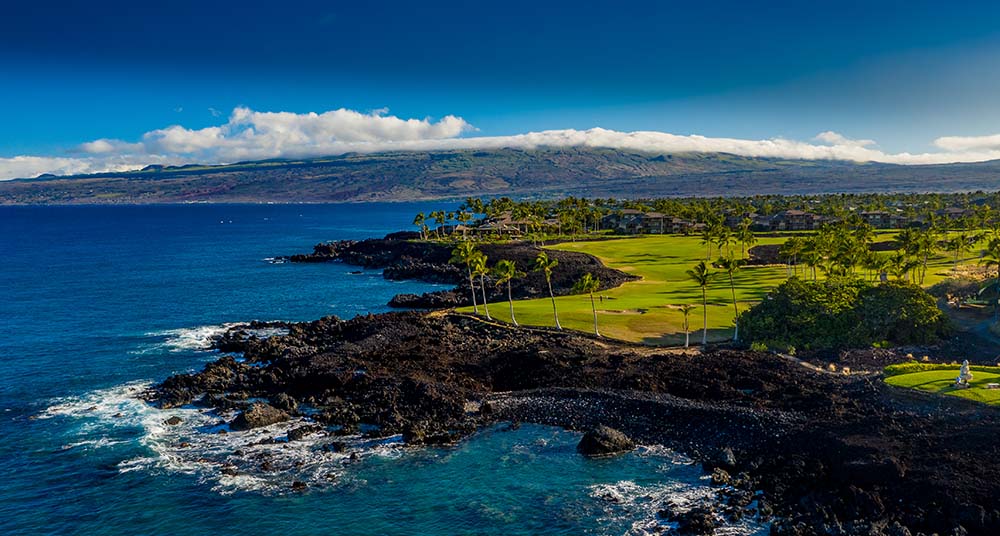 Both Hapuna and Mauna Golf Courses accept tee times from golfers not staying at the hotels; call 808-880-6524 for either course. At present operations have been modified in line with PGA guidelines for public health safety, and some facilities, like showers, are temporarily closed. However, the health benefits of getting out in the Hawaiian sunshine, golfing with your friends, and taking in some of the most beautiful scenery nature can offer, make Mauna Kea Resort Golf an excellent therapy. Enjoy!