May 5, 2021
Designing Women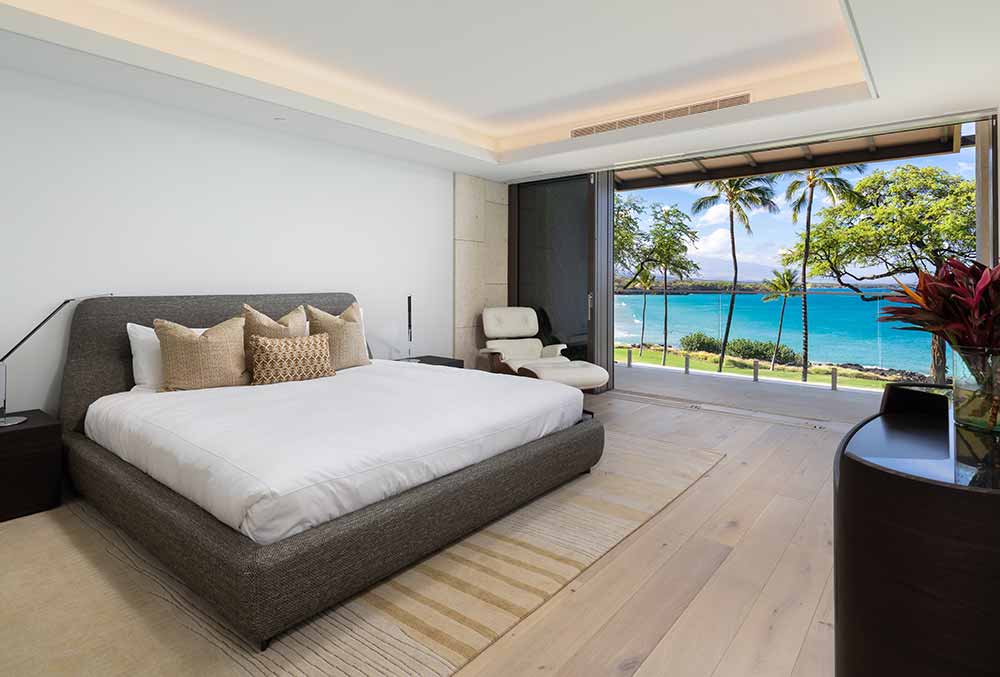 Excellent Interior Designers on Hawai'i Island
There's a very special "club" of interior designers in Hawai'i. While there are many excellent choices, we and our clients have been fortunate to work with some pretty remarkable designers, who also happen to be women.
These ladies are part psychic, part artist, can read your mind, fine-tune the vision and set the stage for your Big Island dream house. Part accountant, part project manager; they can look at blueprints, evaluate function, plot a course and track a budget.
Plus, with decades of experience on some of the best properties in the Hawaiian Islands, they have a full complement of contacts and contractors and know exactly who to call to get the job done, down to the last detail. Above all, they are skilled communicators; they listen to your needs and ideas, and work hard to make your vision a reality.
It can take a designer who has been here a while to understand that Hawai'i Island is unique, in environment, lifestyle, and culture. There's also what renowned Interior Designer Mary Philpotts calls a sense of place, as detailed and beautifully illustrated in her book.
"Design needs to be sensitive to the environment and the people who inhabit it," she says in Hawaii Luxury Magazine. "There is a spirit that stays with land, objects and even dwellings that must be honored and brought into the present."
Mary founded Philpotts & Associates in the 1960's. They've taken on all kinds of projects, from luxury resort properties, to sleek, urban office spaces and high end custom homes. And, the team has won dozens of prestigious awards, from ASID, IIDA, Interior Design Magazine, Architectural Digest, NAIOP and others.
"The foundation of our design philosophy was and remains inspired by our nearly six-decade-old legacy. What sets us apart is our multi-generational staff who have given us the ability to adapt and evolve to meet the diverse and ever-changing needs of our clients."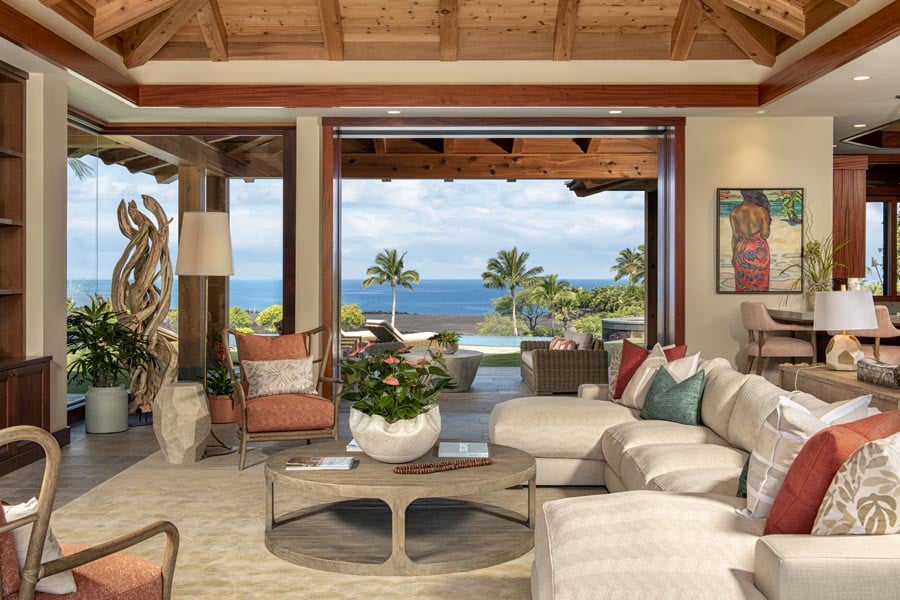 Gina Willman of Willman Interiors has an obvious love for Hawai'i and respect for its sense of place, and for her clients' flexible needs. It also seems obvious that she and her team work side by side with clients, making their dreams come true, in a way that connects them more deeply with the land they now call home.
Her award-winning design puts local artists and woodworkers in the spotlight; it brings the colors of sky, palms and ocean from the outdoors in. It captures feelings from another time—from cool traditional Polynesian, to the great mid-century resorts, and playful tropical getaways.
"When the soul of a room reflects the soul of its inhabitants, you know client vision and professional skill have melded in a collaboration of harmony. We believe this magic begins with deep listening and comes together with exceptional design talent," Gina says. "There is no greater reward than a successful collaboration, and to hear a client proclaim, 'Your intuitions were spot on. This is just right for us. I'm going to love spending time here.'"
Shirley Wagner of Fine Design Interiors also feels Hawaiʻi's sense of place. "Because we've been doing business in Hawaiʻi for more than 30 years, we have relationships with showrooms, craftsman, artists, galleries and hidden design gems that enable us to create interiors that incorporate local and Hawaiian design," she says. "Our range and style expertise extends far beyond Hawaiʻi from vintage and refined rustic, to elegant high style and luxury eco-friendly, to healthy sustainable and island sophisticated design."
Shirley holds the prestigious ASID-NCIDQ Certification, and is a member of the Sustainable Furnishings Council. "I wish to act in service to the world by not using harmful, oil-based products or unsustainable, non-locally sourced hard-woods with toxic finishes," she says. "It's the first step in the process of making the future more healthy and sustainable for ourselves and our planet."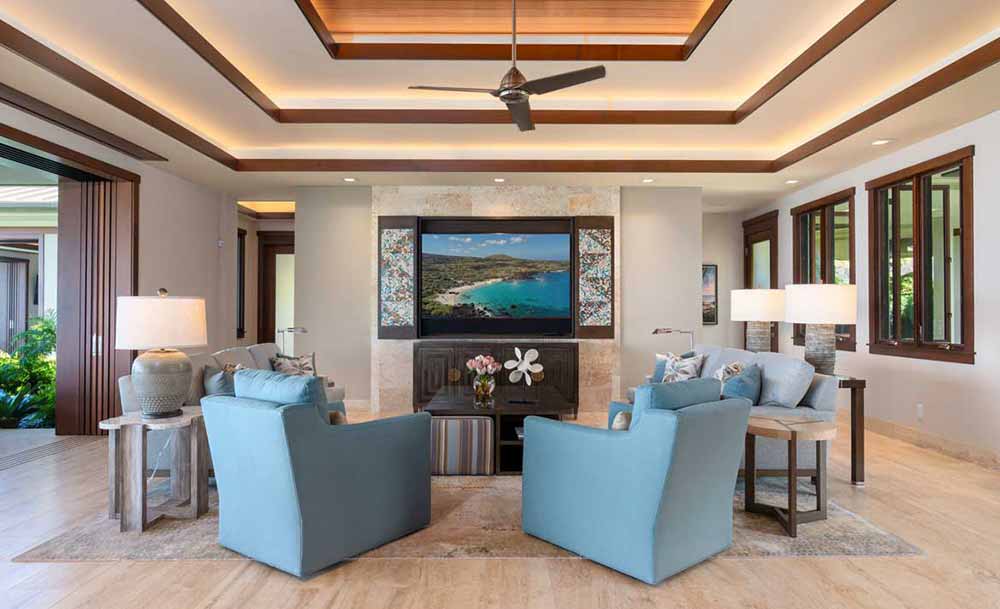 Another eco-conscious member of the "club," as well as the Sustainable Furnishings Council, is Interior Designer Sue Moss, founder of Trans-Pacific Design in Waimea. Sue is also NCIDQ Certified, a LEED Accredited Professional, and member of the U.S. Green Building Council.
"I'm not only into sustainable design, but healthy design," she says. "It's important that the paint we select and the adhesives we use don't make people sick within that space." Trans-Pacific's designs often features sustainable materials like bamboo, wicker and Indonesian rattan, and softwoods like mango. They will also work with clients on a limited budget to repurpose or upcycle furnishings, cabinetry and favorite design elements—keeping discarded items and materials out of our landfills.
Waikoloa Interior Designer Diane Bobek is another club member who's not intimidated by budgets, large or small. She recently did a complete renovation of a small studio for $2,500. "I've done many high-end homes with high-end budgets over the years, but I also enjoy putting together great design on a dime," she said. "You can pull together contemporary spaces on a small budget. The secret is to go for quality items because they have to withstand the test of time."
Looking through her portfolio, one thing is quickly obvious: Diane loves her work. You can tell she takes each home, each project, personally—infusing them with a sense of joy and fun, and scouring local galleries and markets for The perfect piece of wall art, sculpture, fabric, antique or unique "found" object.
Whoever you choose, whatever your budget or your style, there's a fabulous Interior Designer on Hawai'i Island, who's ready to be your new best friend—and finish making your Big Island dream house come true.