Dec 22, 2021
Christmas in Hawaiʻi Playlist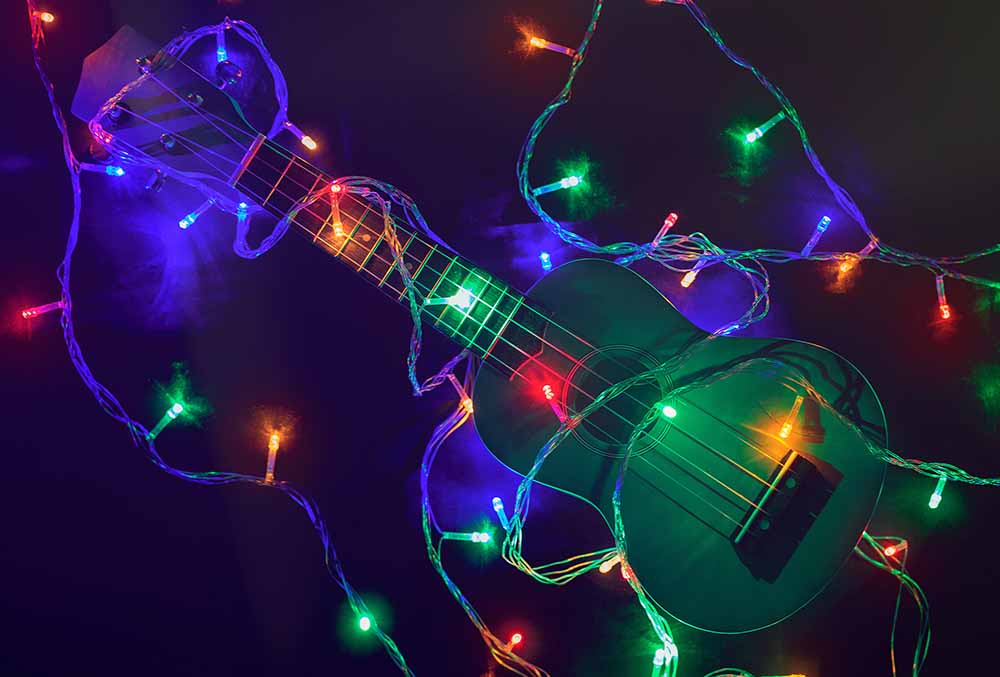 A gift from our ʻohana to yours!
Hawai'i loves all the holidays. We pop firecrackers, uncork champagne, carve turkeys, hand out candy, light candles, wave flags and kick off parades for just about any "lā nui" (big day) you can think of. But when the holiday season is in full swing, a very special blend of Hawaiian music fills the airwaves with songs that are merry and bright, fun and sweet, and those that make the spirits soar.
We've curated a holiday playlist just for you, and hope you and your family enjoy these tunes as much as we do—and that they inspire you to go on a Hawaiian Christmas music search of your own.
Mele Kalikimaka, Bing Crosby and the Andrews Sisters. Recorded in 1949 by some of the hottest singers of their day, this catchy tune was written by Honolulu composer R. Alex Anderson. He shared it with a golfing partner, Bing Crosby, who surprised him with a recording.

Mele Kalikimaka iā 'Oe. Different tune, similar name, written by Alice Namakelua and performed by Sean Na'auao with a vintage, upbeat island rhythm.

White Christmas. Covered by so many great singers, and danced by hula halau on every island every year, this classic tune was written by the great Irving Berlin in 1942, and recorded by Bing Crosby. It has since become the world's best selling single with 50 million copies. We chose Bruddah Waltah's rendition, with his relaxed Jawaiian vibe and a unique sound.

Numba One Day of Christmas. Hawaii's answer to the 12 Days of Christmas (featuring a mynah bird in one papaya tree, and other fun things) performed by the Honolulu Boys Choir and Kauai singer Ed Kenney who performed on Broadway in the 60s. We stumbled on this song in our search, and it's going on the "nice" list from now on.

Christmas Lū'au. Everybody covers this song, written by Leonard Hawk in the 1920's. We chose Paula Fuga and Kimie Miner's cover because it feels like they are inviting you into their home for a really good time.

No Mo Christmas Blues. Another discovery! We found this fun, sassy song that puts long time comedian Frank DeLima together with the Honolulu Boys Choir for a slightly irreverent "pidgin style" holiday tune.

The Merriest Hawaiian Christmas. Because you can't make a Hawaiian music playlist without including the Brothers Cazimero. This smooth, jazzy tune features what they do best: close harmonies, cool rhythms, soaring vocals, fun lyrics, and great musicianship.

Pō Lāie, Silent Night. It's quite a moment, the first time you hear this lifelong-familiar song in Hawaiian. This version, sung by Amy Hanaiali'i with the sweet steel string guitars and 'ukulele, is an island favorite. Feel free to sing along.

Nū 'Oli, Joyful News. Keali'i Reichel's rich, harmonic choral piece is performed a cappella for an angelic, ethereal rush.

O Holy Night, Willie K. This soaring anthem, sung in English and Hawaiian, features the young and powerful vocals of Willie K in 1999, with a lavish orchestral and choral accompaniment.