Sep 21, 2022
Bourbon, Brews and BBQ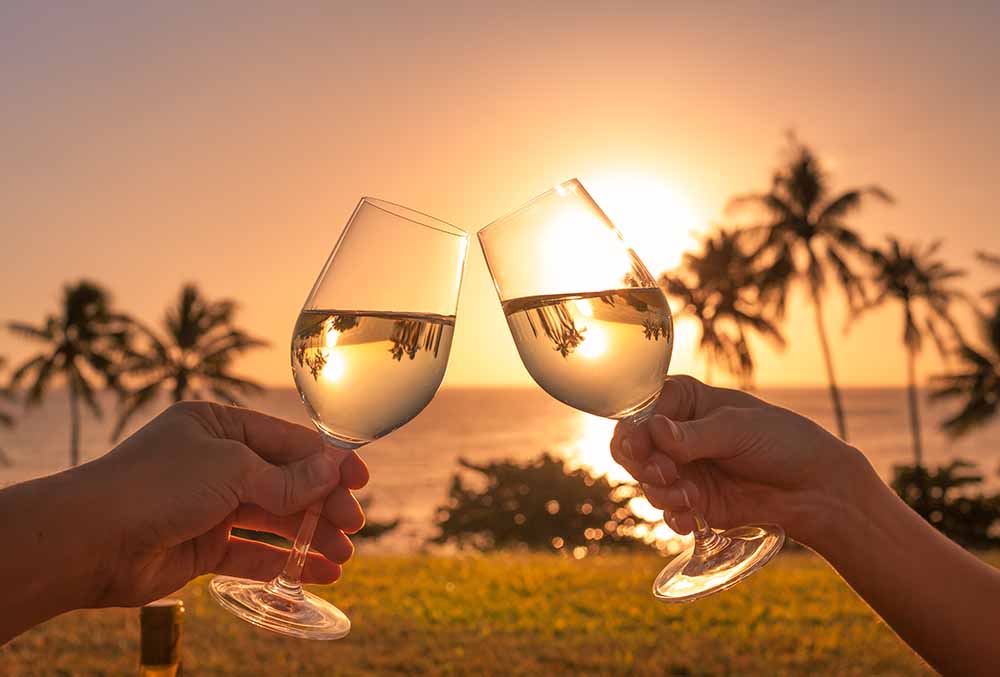 Hawaii's culinary scene has become something of a phenomenon, thanks in no small part to two of the original founding chefs of Hawai'i Regional Cuisine, Roy Yamaguchi and Alan Wong. Twelve years ago, Roy and Alan teamed up with talented culinary partners to create what would become a world-class food and wine festival that highlighted island foods cooked by extraordinary chefs. Not just a party for foodies, Hawai'i Food and Wine Festival (HFWF) would give back, donating proceeds to nonprofits that support food sustainability, and cultural and educational programs—over $3 million to date.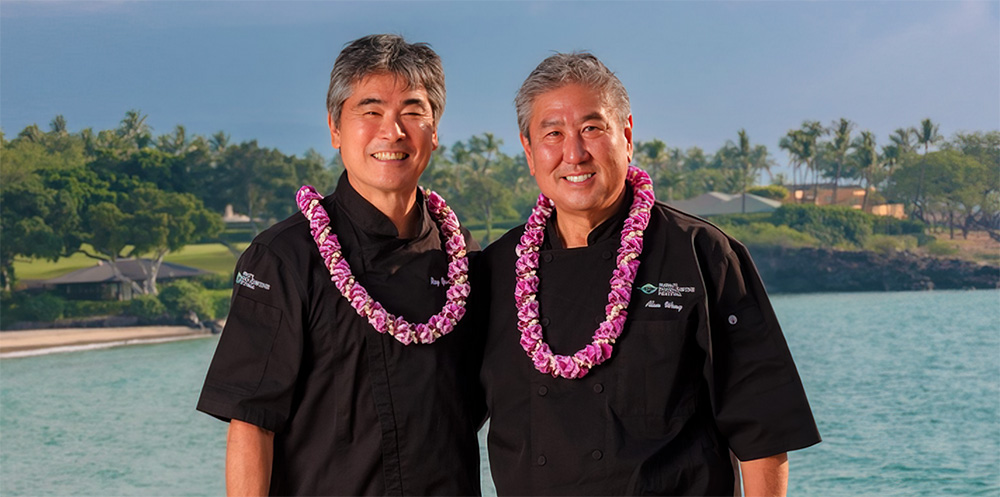 In 2022, after a two-year modified, but very ambitious, schedule due to the pandemic HFWF returns full force, with 13 events on three islands, 84 chefs (35 from Hawai'i), 18 mixologists, 15 winemakers, and four sommeliers. Hawai'i Island is on the schedule again, with a creative new event on October 28, hosted at the Mauna Kea Beach Hotel.
With a name like "Bourbon, Brews and BBQ," your average diner might not expect a culinary feast prepared by ten renowned chefs from across the country. But, when HFWF puts on a barbecue, it takes the down home flavors of local raised and grazed beef to a whole new level. The diverse menu will feature grilled, smoked and slow-cooked dishes, seasoned with the region and specialty of the chef. Barbecue flavors from Virginia, Texas, California and Hawai'i bring tons of tastes to the table, paired with Bourbons, craft beers, and a generous helping of aloha.
From across the country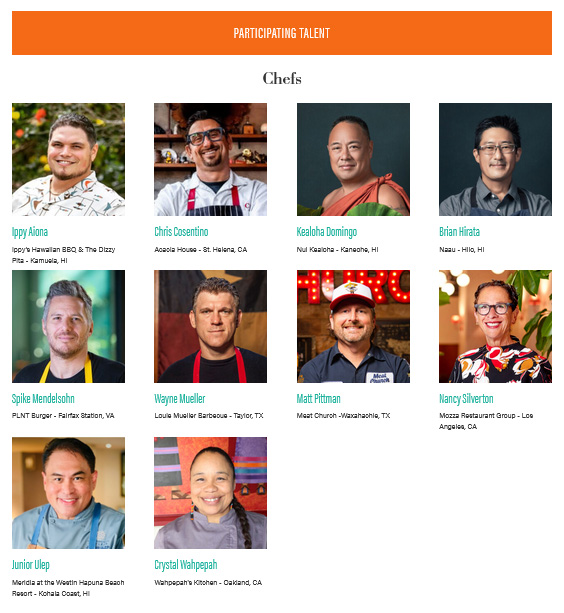 Of very special note is Native American Chef, caterer, and educator Crystal Wahpepah, a member of the Kickapoo Nation of Oklahoma. Her preparation of food is an homage to her culture and its food ways, and Wahpepah's Kitchen has a varied menu that may feature deer, buffalo, indigenous berries, salmon, wild native mushrooms, acorns and more. It honors where the food comes from, "its roots, its indigenous cultivators and stewards and place within the seasons."
Chef Crystal says that her restaurant has three objectives: "to acknowledge that we live on stolen land, and how that acknowledgment connects to the reclamation of Native food ways, and to educate communities and organizations of the health benefits of Native food ways." Learn more about Chef Crystal here.
Hawai'i Chefs
Ippy Aiona, Ippy's Hawaiian BBQ and The Dizzy Pita, Waimea
Known for his wide smile and 'ono food, Chef Ippy is a Waimea boy, born and raised in a restaurant family. He grew up working alongside his Italian mother and Hawaiian father in their local plate lunch place, learning to love food and the magic of cooking at an early age. Ippy went on to Graduate from Le Cordon Bleu in San Francisco, and was competed on Food Network Stars as its youngest finalist. In 2014, he won International Iron Chef (Canada) and opened two restaurants.
Kealoha Domingo, Nui Kealoa, Kaneohe Oahu
Chef Nui, in addition to practicing the culinary arts, is also a practitioner of Hawaiian culture. He works to honor the spiritual connection between land, people and food, in order to nourish body, mind and spirit. From Kaaawa, raised by food industry professional family. Inspiration from ancestors, family and extended ohana.
Brian Hirata, Na'au, Hilo
A graduate of the Culinary Arts Program at Hawai'i Community College, Chef Brian worked as Sous Chef at The Hualālai Grille by Chef Alan Wong, as well as a Culinary Instructor at HCC for 10 years. In 2019, he was named one of 10 Changemakers in America by Departures Magazine, and a Semi-Finalist for a James Beard Foundation Award. Na'au features foods caught, raised, grown, foraged or crafted in Hawai'i, many by the chef himself.
Junior Ulep, Meridia at Westin Hapuna Beach Resort
Originally from the North Shore of Oahu, Chef Junior Ulep has perfected his craft at some of the finest resort hotels in Hawai'i. These include Four Seasons properties at Huālalai, The Lodge at Koele, and Manele Bay, plus CanoeHouse at Mauna Lani Bay Hotel and Bungalows and Manta at the Mauna Kea Beach Hotel.
With such diversity, even the simplest dishes present themselves with worlds of delicious possibilities that barbecue lovers are sure to enjoy—along with the Bourbon, of course. Some tickets for Bourbon, Brews and BBQ are still available online, and include all food and drinks, taxes fees and gratuity. (No one under 21 will be admitted).