Feb 6, 2023
Big Island Biking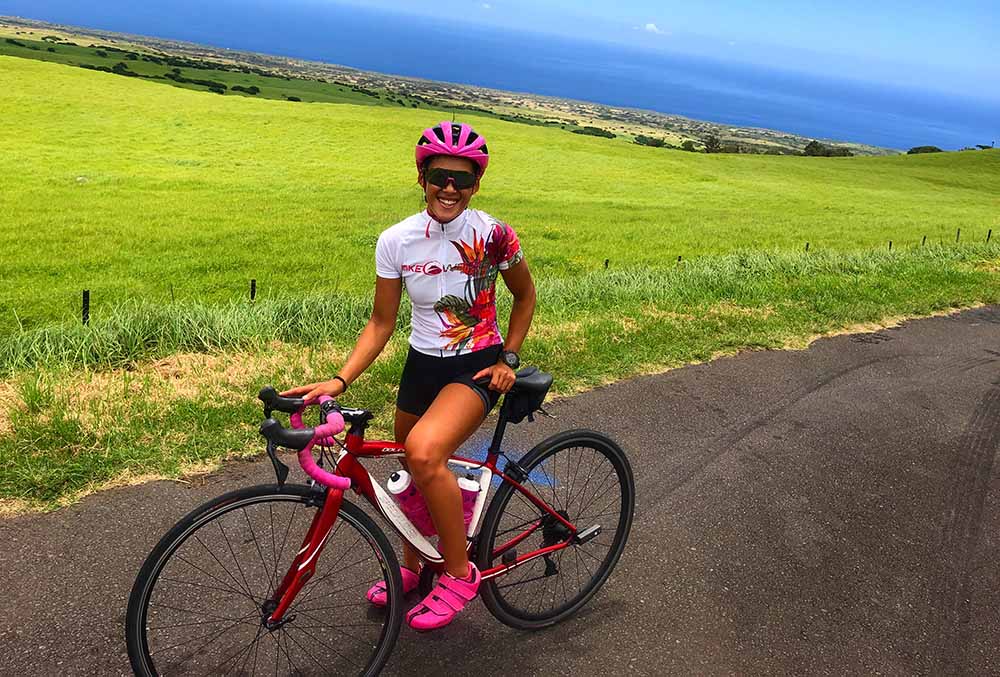 Everyone knows that Hawai'i Island is an exciting place for explorers—on foot or horseback, by car or kayak, and everything from ATV to zipline—but it's also epic for exploring on two wheels.
Bicycling is good exercise, it uses no fossil fuels, and gets riders out into the Big Island's spectacular environment. It lets us not only see the scenery, but feel the sunshine, listen to the birdsong along the way, and occasionally stop to smell the plumeria. And, all levels from kids just beginning to beach cruisers, mountain bikers and Ironman contenders in training, will find numerous resources for cyclists on the island.
One good way to begin, is by meeting the Bike Works 'ohana, Grant and Janet Higa Miller and their Bike Works team. The Millers own and operate three Bike Works locations on the island, and each has a slightly different vibe.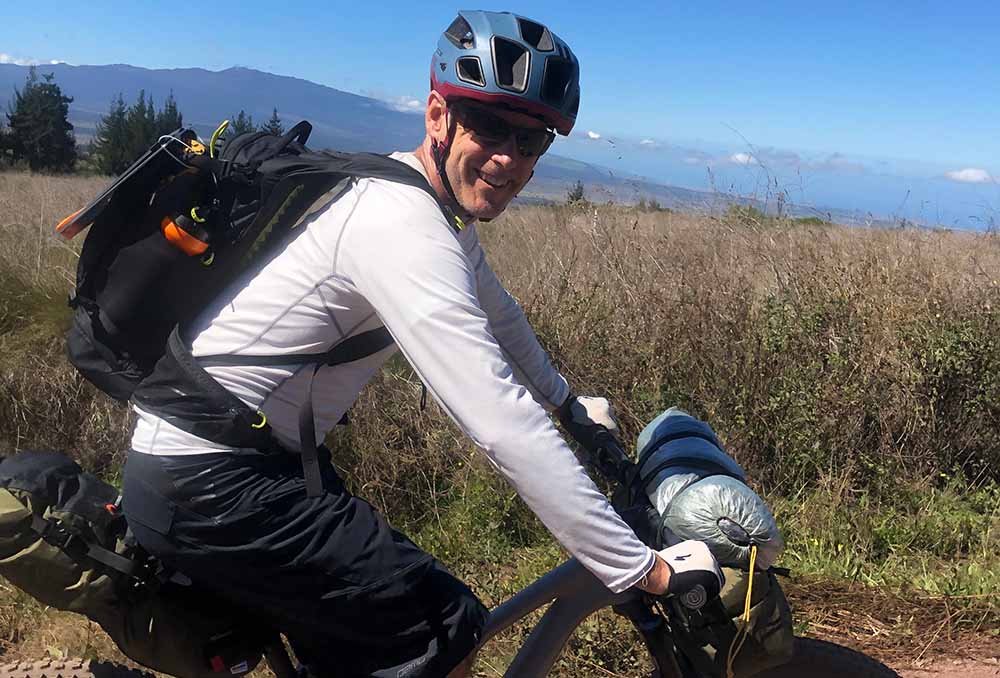 Their story begins in 1989, when Grant decided to visit the Island. As an Army brat, he'd moved frequently and been to every state except Hawaii and Alaska, so after graduation, he made that a goal. He took a bike ride around the island, and that was that. Soon after, he and a friend started Hawaiian Pedals bike rentals out of a kiosk in the Kona Inn Shopping Center. The plan was to rent 12 bikes out for $10 a day, then go surfing, and come back in the afternoon and collect the money.
After some months of working three jobs to scrape by, Grant's buddy went back to the mainland, but Grant held on, and kept reinvesting in the business. In 2001, the Island of Hawai'i was preparing for a total solar eclipse, and the hordes of visitors it would bring, when Grant had an idea. He designed and printed a special commemorative tshirt, that sold like crazy—earning him enough money to put a deposit on an actual store.
That store eventually evolved into Bike Works Kona in the old industrial complex. Since Kona is home of the Ironman World Championship, BWK caters to competitive swimming, biking and running. They sell the latest swimwear, wetsuits and goggles, to the hottest racing bikes, bike repairs, parts and rentals, and racing shoes for every foot. They offer bike sales and rentals, parts, shipping, repairs, and an extensive a la carte menu of services, pre-race tuneups and more.
After 10 years or so in Kailua-Kona, wife Janet had the idea to move north, up to the Kohala Coast where major resort developments were growing. They opened Bike Works Beach & Sports in Queens' Marketplace, a first-of-its kind business within Waikoloa Beach Resort, and along the way helped create an active bicycle culture in the resort, where none existed before. That culture thrives today, as folks from near and far seek out Bike Works for repairs, rentals, resources and recommendations.
Bike Works Beach & Sports is geared towards a more leisurely style (although racing gear is available and can always be ordered). They offer a great selection of ath-leisure wear, beach toys, hydroflasks, shoes and equipment, along with cruising and touring bikes for rent and a weekly social ride to meet other bike-minded folks. Newcomers are welcome to meet at the social ride, every Tuesday morning at 7:45 a.m. for a 30-mile cruise to Kua Bay and back.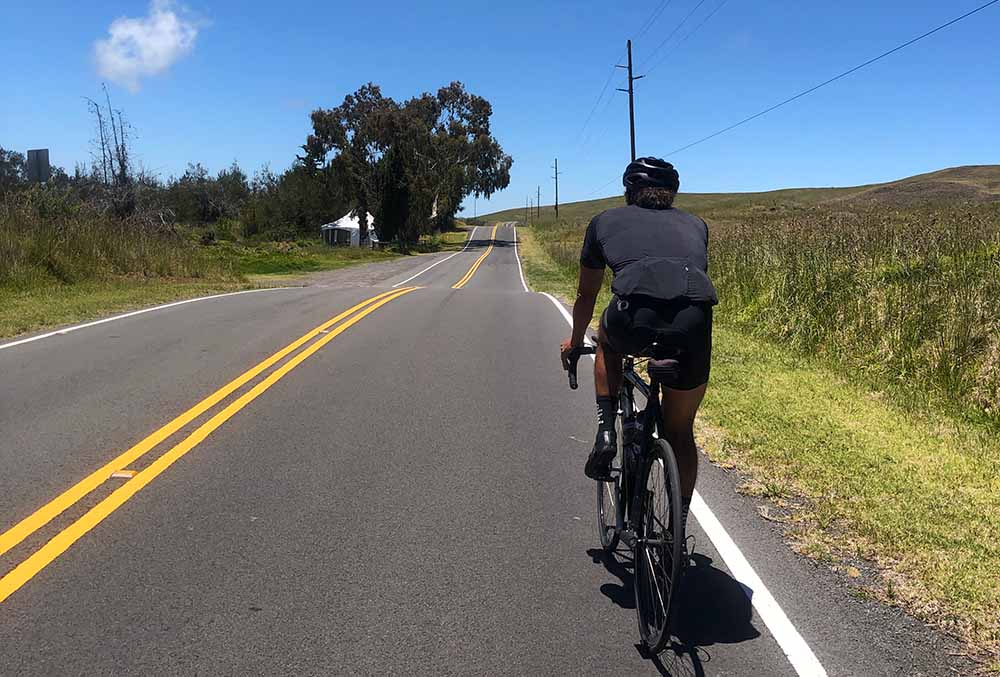 Up mauka in Waimea, they're more about mountain biking, and can sell or rent you what you need, plus advise on the best trails for your mountain bike adventure. Bike Works Mauka offers all the gear and equipment the cycle adventurer needs, along with friendly local knowledge and a list of suggested trails. It's a good place to talk about, and try out, electric bikes and pedal-assisted bikes too.
In addition to being merchants, the Millers are steadfast bike enthusiasts and community supporters. They've helped run and sponsor athletic events like Lavaman Triathlon (half the distance of Ironman), the Honu 70.3, and many others.
They and the Bike Works team encourage everyone to get out there and give cycling a chance (or a second chance if you had a bike as a kid). You don't have to be a triathlete to try, and there's no better place than Hawai'i Island.
Here are some helpful links for bicyclists on Hawai'i Island: