Mar 7, 2022
Aloha Tiare Rose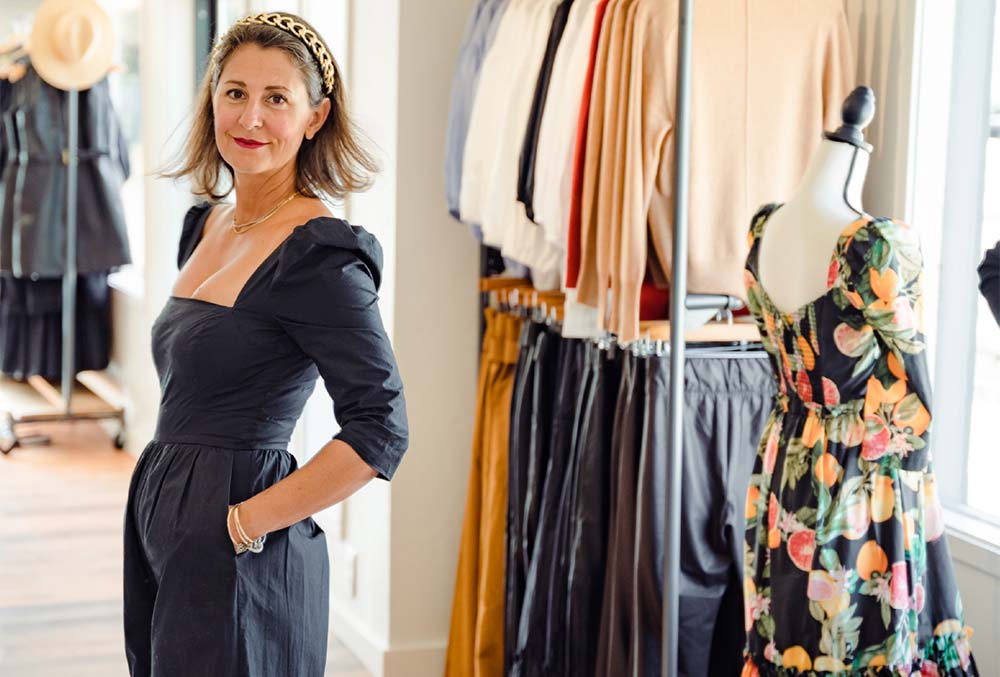 "The Polynesian tiare flower is a symbol of harmony, and my mantra for our business," says Kim Leone Castellano, founder of Tiare Rose, a new, sustainable fashion and beauty boutique in The Shops at Mauna Lani. "Tiare Rose fosters harmonious relationships with select, high-quality brands, and with our retail customers, both online and in person."
Kim, who started her professional journey as a lawyer, has been an online retailer since 1999, with a line of accessories called Fashion First Aid. A self-proclaimed obsessive problem solver with a passion for the fashion industry, she felt trends were veering away from e-commerce and back to a more sensory experience. "It's kind of coming full circle. Customers want a place where they can see and touch and try on the clothing," Kim says. "And we invite them to come, explore, discover and have great experiences."
She also wanted to help the industry reduce its negative impact on the environment. "The fashion industry has not been kind to the planet," she says. "We know we can do better, and we strive to minimize the industry's impact on the earth and maximize its impact on humanity."
"We are looking for brands that tick three of our eight 'pillars,'" Kim says, referring to the company's foundation and its guidelines. For example, they prefer locally-sourced natural fibers made with non-polluting manufacturing methods. They also reach for businesses majority-run by women or BIPOC (black, indigenous, people of color), and those who specify highly ethical practices. "All of our brands are amazing partners to work with."
Those brand partners include luxury, exclusive clothing for men, women and children, from beautiful beachwear, to elegant, off-the-beaten-path fashion, and fun looks for sunny vacation days. You'll also find hair care, skin care and fragrance, hats, sunglasses and jewelry, and fine gifts for the home.
Locally-made items are on the shelf at Tiare, such as Pure Mana Hawai'i, a line of self-care products made from organic macadamia nuts and 100% Kona Coffee, grown at Mahina Mele farms here on Hawai'i Island. The brainchild of two women, Pure Mana focuses on what they call zero waste beauty, and the luxury of mother nature, for their oils, candles and other products.
Also available, Little Hands Hawai'i, created by a Hawai'i mom who needed a gentle, non-toxic sunscreen for her newborn. As a result, their family continues to produce high-quality, all natural mineral sunscreens—keiki safe and reef safe, plastic-free and locally made. They also support surfers on all the islands, who work to keep the reefs and beaches clean and safe.
Western Aloha is a clothing enterprise based on Hawai'i Island, and inspired by (among many things) the paniolo culture. They also collaborate with local artists, such as Puako painter Christian Enns, who created "Coconut Palms" for their aloha shirt, featured in Tiare Rose.
"Tiare Rose scours the globe to feature emerging designers, quality artisans and one-of-a-kind pieces," Kim says. "Our team of experts hopes to expand your style horizons to find items that meet your high standards and eliminate the need to sort through the e-com rubble."