Apr 30, 2022
A Time to Release Your Inner Cowboy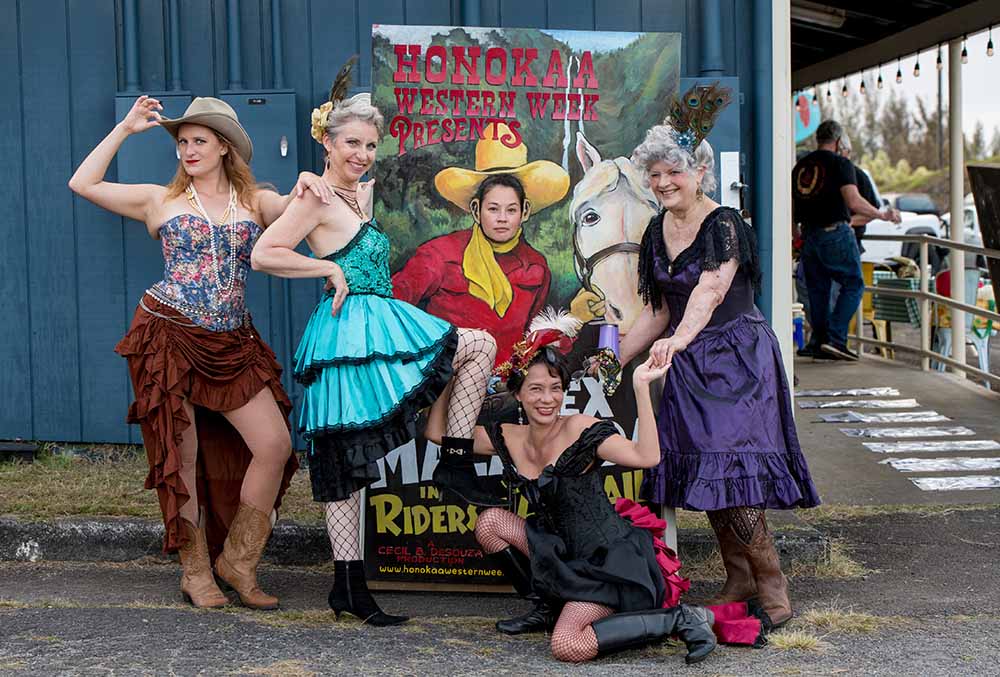 Honoka'a Western Week
If you mosey around Honoka'a in the month of May, you might see streets and storefronts—even people and pets—all gussied up cowboy style getting ready for Honoka'a Western Week. An annual event for the last 70+ years, Western Week gives folks the chance to kick up their heels and celebrate Hawai'i Island's well-loved paniolo culture and heritage.
The event may have started in the 1940's, but the Western Week story actually begins in 1793, when Captain George Vancouver gave a handful of cows to King Kamehameha I. He subsequently released them into the wild, with strict instructions to leave them be. As a result, by the time the paniolo arrived, hordes of wild cattle roamed the countryside uncontrolled.
In 1823, King Kamehameha III hired Spanish and Mexican wranglers from California. They became known as "Paniolo," a Hawaiian-ized version of the word "Espanol." The paniolo trained islanders to rope and ride; they introduced the guitar and 'ukulele; they shared new foods and helped create a whole new chapter of Hawaii's very special story.
Fast forward to the 40's. Ranch life was in its prime, and Hawai'i Saddle Club's annual rodeo was one of the year's biggest events. Hundreds of paniolo would ride into Honoka'a for the weekend, horses were tied to hitching posts down the street, and cowboys crowded into the old Andrade Hotel, sometimes eight or nine to a room.
Marlene Hapai, owner of the century-old Andrade Building, remembers those days. "My grandmother was a business woman in Honoka'a, in good and lean times, and rodeo time in Honoka'a was like Christmas for everybody else." Jill Andrade Mattos, of Hawai'i Beef Producers, said she remembered her grandmother cooking soup in the mornings when cowboys stayed over, waiting for them to come rolling down the stairs after a night of whooping it up.
Honoka'a Rose Andrade Correia Arena is named in honor of Jill and Marlene's grandmother, the family matriarch and benefactor who donated her land to support Hawai'i Saddle Club and Hawai'i's paniolo. "This was her mother's property," Marlene said. "And she knew by giving the land for the arena, that it would insure, in perpetuity, that Honoka'a would always have a rodeo."
With so many extra people in town, newly-formed Honoka'a Business Association came up with an idea to capitalize on the crowd and bring the community together for some fun. They called it "Rodeo Days." As time passed, "Days" grew into a week or more, and Honoka'a Western Week grew, adding a posse of different events to capture the spirit for everybody. There were stick horse races and roping games for the kids, a Portuguese bean soup contest for foodies, Cowboy Talk Story to hear tall tales from the old-timers, western movies, line dancing classes, and more.
Leading up to the annual Hawai'i Saddle Club Scholarship Rodeo on Memorial Day Weekend, Māmane Street would close for the grand paniolo parade, complete with mounted units from local ranches, pā'ū riders, rodeo queens, and sleek vintage cars. A makeshift "jail" was set up on the corner, and the Sheriff and his deputies had their eyes peeled for violators—anyone at the events without their HWW commemorative button. And just about sundown, the Block Party lit up, with live music and hundreds of people dancing in the streets, food booths, and the ever-popular Saloon Girls and Cowboys Got Talent Contest, open to anyone bold enough to dress up and perform for the judges.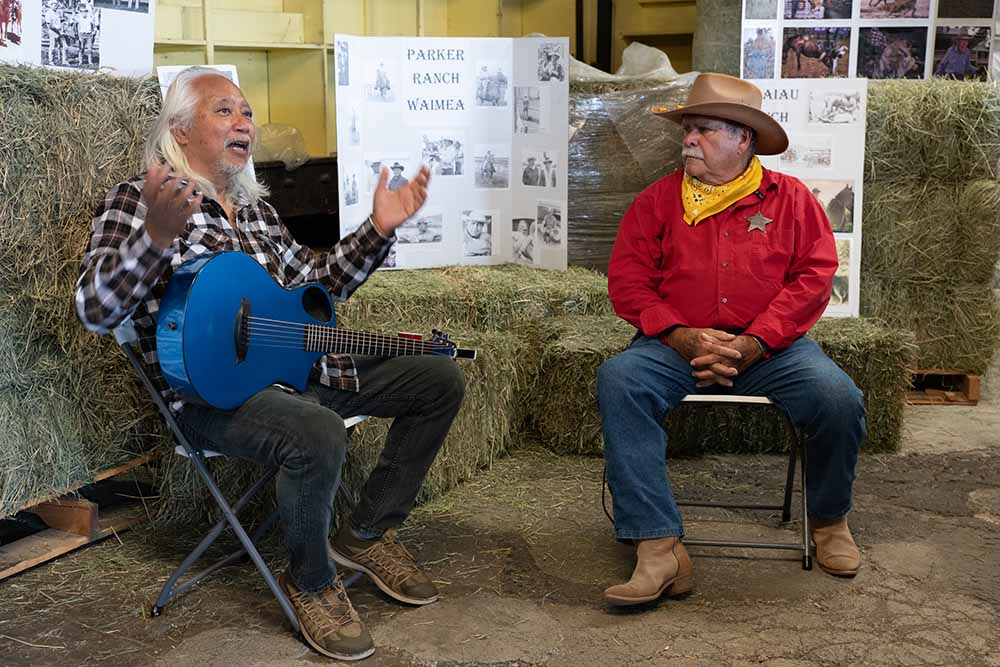 "A good Saloon Girl or Cowboy can dish some attitude and is responsive to the audience," said photographer Sarah Anderson who's helped with Western Week for years. "Costumes are so cool. When people dress up, they often give themselves permission to be someone they always wanted to be, if even just for a moment. And that's the moment I'm always looking for with my camera."
The COVID interruption canceled Western Week 2020, and made for a mostly-virtual festivity last year, thanks to the creative juices of the organizing committee. The Silent Auction went online, the Best Dressed Western Costume Contest moved to social media, and—thanks to a partnership with Kahilu Theatre—the Saloon Girls and Cowboys performed before the video cameras in an empty auditorium. Results were kept hush hush until Western Week, when a special outdoor, socially distanced screening was arranged and the winner announced. The show was also made available on Kahilu.TV.
As Western Week 2022 comes around, the committee is working to bring back some of the favorite events, and generate excitement for the year ahead. Saloon Girls and Cowboys Got Talent is happening in front of a live audience on May 17 at Kahilu Theatre, and everyone is urged to come and cheer for the brave souls willing to cast their fears aside and their fate to the wind (or the judges). The show will be videotaped for screening during Western Week at Honoka'a Peoples' Theatre and available on Kahilu.TV. For more details, check out www.HonokaaWesternWeek.org.